Archipelago
(2014)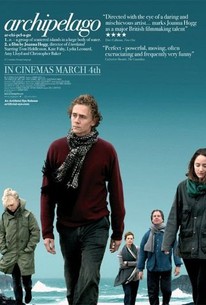 Movie Info
ARCHIPELAGO is a quietly devastating portrayal of a family in emotional crisis. Edward (Tom Hiddleston) is preparing to leave for a year of voluntary service in Africa. His mother Patricia (Kate Fahy) and his sister Cynthia (Lydia Leonard) decide to gather the family together, on a remote island, as a farewell trip to say goodbye to Edward. Hired cook Rose (Amy Lloyd) and painting teacher Christopher (Christopher Baker), though bought in to help, only serve to bring the family's anxieties into sharper focus. When Edward's father is delayed, the unspoken forces of absence and loss bring the family's buried anger and repressed tension to the surface. (C) Kino
Critic Reviews for Archipelago
Audience Reviews for Archipelago
½
Beautifully filmed and naturally acted, the simmering tensions which give way to arguments often heard but not seen feel real and incisive. But it is hard to care too much about these characters' thoughts, feelings and motivations when they are clearly so STAGGERINGLY WEALTHY that they can afford a getaway to the very expensive Isles of Scilly *AND* employ a full time cook/maid/cleaner and pursue activities such as painting, picnics, dining at expensive restaurants and "gap years" in Africa. But for all that there's genuine visual style, superb performances and the conjuring of mood that at times often feels mysterious.
Daniel Parsons
Super Reviewer
This is definitely something more reserved for the 'higher-thinkers' or 'artists' amongst us. I appreciate what the director intended to do and what she has done, however for me personally, it didn't make a great film. I didn't really like any of the characters too much (except Edward and Rose) and when, towards the end of the film, I see a close up of one of the main characters and don't recognize her, there's a problem. I presume the constant static wide and long shots that capture the whole scene rather than cutting between different shots is supposed to represent some sort of fly on the wall Italian neorealism but I just didn't like it. At times it as great and really fueled the tension and awkwardness of what was happening, but at other times I almost screamed for closer shots. Not something I'd watch or even mention again.
Sophie Burgess
Super Reviewer
Archipelago Quotes
There are no approved quotes yet for this movie.