The Architecture of Doom
(1992)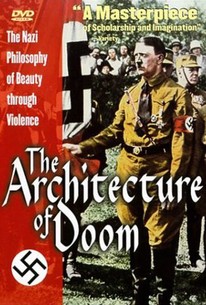 AUDIENCE SCORE
Critic Consensus: No consensus yet.
The Architecture of Doom Photos
Movie Info
Based on the interesting theory that the Third Reich was merely an expression of its architects' desire to create, Peter Cohen has written, directed, produced and edited this compilation documentary. Many of Hitler's top guns were not only well educated but had creative bents - Hitler was a frustrated watercolorist, Goebbels had an unpublished novel and play to his credit and von Sitach was a poet. It is the contention in this "documentary" that the creative urges of these men are what drove them to try to reshape their entire environment into their own unique vision of a perfect society - helping to design everything from the clothing worn to the houses built, and molding even the surviving humans into their own monocular vision of mankind by labeling anything different than the Aryan mold as diseased and degenerate. A unique postulate as to the origins of the Nazi movement, Cohen fails to account for the fact that there were numerous antecedents when Hitler was young who were equally racist and bigoted and their politics can be easily seen in Hitler's own molding and shaping into the monster he became. However, the notion that for Hitler and his group aesthetic considerations often outweighed the mundane and pragmatic is borne out by much of the evidence presented in this documentary, making it worthwhile as a historical perspective from a slightly different angle than usually seen when discussing the rise of the Third Reich.
Rating:
NR
Genre:
, , ,
Directed By:
Written By:
In Theaters:
On DVD:
Runtime:
Studio:
Swedish Film Institute
Critic Reviews for The Architecture of Doom
Audience Reviews for The Architecture of Doom
½
Having taught college prep American high school seniors for over a decade in Western Philosophy and Ethics, and doing so employing the effective example of educated, even sophisticated, WWII-era Germans in the Nazi Party as proof of what even the elite are capable of affecting in a civilized, enlightened society, I find this film to be a powerful editorial addition to any serious study of the infamous, failed regime. Parallels to Al Qaida's political and theatrical motivation in attacking the World Trade Center's Twin Towers help us frame the motivations behind the grandiose fantasy ideology of the narcissistic, megalomaniac Adolf Hitler whose aesthetic sensibilities, bloated and unrealistic as they were, rivaled his misguided zeal for imposing his narrow, ill-informed Classical Romantic nostalgia on mid-20th Century Germany. Kids hear a lot about "hatred" and "anti-Semitism" when encountering the Nazis. Tell them something they don't know. Tell them that the rise of the Third Reich and the atrocities of the Holocaust were obviously political and militaristic, but "artistic"...? Now you have their attention, thanks to Peter Cohen's unique, insightful, and circumspect work. I think Cohen nails it as far as pinpointing the broad motivations of those whose work inspired the zeal surrounding the Third Reich's master plan of world domination. From the Romantic sensibilities informing Wagner's inflated humanistic vision to Schopenhauer's Power of the Will, and ultimately to Hitler's bizarre and unprecedented rise to power and his successful employment of extreme propaganda, one must strongly consider the culmination and synthesis of the propagandistic zeitgeist in the aesthetic drive behind the Reich's successful wielding of the Aryan myth and its associated Jewish problem, articulated and sold to a proud, yet deeply bruised, threatened, and nationalistic Germany. Cohen fully captures such a nightmare by means of an elevated, shrewd, often deft aesthetic in this hauntingly beautiful, craftily subtle film... by an aesthetic that Hitler was neither intellectually nor artistically capable of conspiring to create, much less to imagine. S. Clay Smythe
Stanley Smythe
½
I'd be hard-pressed to think of a more original documentary about Adolf Hitler than [i]The Architecture of Doom.[/i] Director Peter Cohen's premise is that the Nazi movement was Hitler's attempt to create an artistic social utopia, a real-life opera in which Hitler was the star, with every aspect of the production - the aesthetic, the symbolism, the costumes, the history, the mythology, and the media - was controlled by Hitler himself. Cohen insists that Hitler's failure as an artist, combined with his obsession for Wagner's nationalistic operas, created the seeds for the Holocaust. As kooky as the idea sounds, once Cohen begins to lay out his evidence, it's hard not to be persuaded. This is a sobering flick for any WWII buff.
Craig Burgess
One of the best documentaries that I have seen on Nazi propaganda. I was disturbed for days afterwards with some of the images.
John Ballantine
Super Reviewer
The Architecture of Doom Quotes
There are no approved quotes yet for this movie.