Aria
(1988)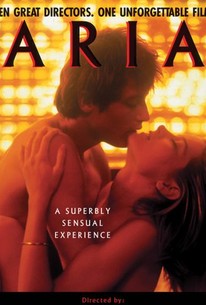 Movie Info
An international collection of well-known directors contributed to this compilation film, each fashioning a short film inspired by an aria from a famous opera. The approaches vary broadly, from the playful abstraction of Jean-Luc Godard's segment, which illustrates Armide with exercising body-builders, to the more literal approach of Franc Roddam, who transports Tristan und Isolde's story to modern-day Las Vegas. A particular stand-out is Julian Temple's take on Rigoletto, which recasts Verdi as the accompaniment to a contemporary Southern California sex farce.
Audience Reviews for Aria
It starts out mild enough, but in the later parts it becomes so emotionally acute as to seem other worldly. Yet the stories have to do with worldly matters: love, longing, despair, death. Love it!
Brandon Stocks
Aria (Ken Russell et al., 1987) Anthology films are a tough beast, and especially in America, we're not quite sure what to do with them. (The Asians are still churning out excellent anthologies like Rampo Noir and 4bia.) Even at their best, anthology films in the western world are usually a mixed bag. Aria, while still fitting this descrption pretty well, is the least mixed-bag of them I've seen from American/European directors in recent memory. When it is good, it is very, very good, and when it is bad, it's... less bad than it could have been. Ten directors make ten short films about sex, each attached to a particular aria (and each named for the opera from which the aria is taken). Some are comedic (Julien Temple's "Rigoletto", one of the film's true high points), some melodramatic (Robert Altman directs a meta piece tied to "Les Boréades", also excellent). A lot of them, to me at least, were surprises indeed; both of the pieces I've mentioned were some of the director's best work I've seen. Some I expected to be great, and they were (Derek Jarman). Some I expected to be awful, and they were (Godard, who has never been more than useless). But the upsides here vastly outwight the downsides; Godard's segment is the only one that's truly unlikeable here, and while the others vary in quality, all of them are at least worth watching. Some are a great deal more than that. Ken Russell's, especially, may have been his final spark of greatness, a last glimpse of the art-for-art's-sake director who would soon go the way of the great auk. It's all very pretty, and most of it is kind of brilliant, examining its subject from a number of different angles-almost all of them worth your time. If you've never had the chance, give it a look-it's quite fine. ****
Robert Beveridge
Wow. What a bunch of weak sauce artistic crap. Not only did the whole thing completely suck, but it was super slow while it sucked. I read that like three of them were awful, and the rest were good. But I couldn't tell the difference, not a single story was worth a poop in an old tin can.
Curtis Lilly
Super Reviewer
Aria Quotes
There are no approved quotes yet for this movie.
Discussion Forum
Discuss Aria on our Movie forum!