Arirang
(2011)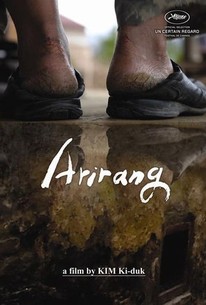 Movie Info
Arirang is about Kim Ki-duk playing 3 roles in 1. Through Arirang I climb over one hill in life. Through Arirang I understand human beings, thank the nature, and accept my life as it is now. We are now... in the terrestrial world lurking with desires, in the ghostly world lurking with sorrow in the imaginary world lurking with dreams, with no beginning nor end, slowly going crazy. What is affection that it still remains all around me decaying? It's still stuck to the crown of my head, testing my emotions. It's still hiding deep within my heart, testing my sense of compassion. If I didn't give my heart, they would be bad people erased from memories but if I gave my heart, I couldn't let them go till the day that I die as despicable people. Ah... Arirang Alright Let's mercilessly kill each other in our hearts till we die. Even today I hold back as I get angry I laugh as I get jealous I love as I despise And forgive as I quiver with the urge to kill. Wait I will kill Myself, who remembers you. -- (C) Kim Ki-duk
Rating:
NR
Genre:
, ,
Directed By:
Written By:
Runtime:
Studio:
Rapid Eye
Cast
Critic Reviews for Arirang
Audience Reviews for Arirang
½
Shot in rudimentary documentary style, Arirang is self indulgent auteur cinema at it's narcissistic best that can wear on the viewer unless one was an avid fan of the filmmaker. The majority of the film, aglow in a red haze, featured a tightly cropped frame of Mr. Kim's face whining, ranting, musing, lamenting, swearing, etc. If you enjoy forced captivity with an angry and verbally abusive drunk, then have at it! This is your movie! The only interesting frames were of the food he prepared and ate. The film finally reached it's climax when he began using the gun he carefully crafted by hand. I admit, I'm not familiar with his acclaimed body of work so I had no vested interest in Mr. Kim, however this documentary did nothing to attract me to the man behind the great film maker, so I'm told, that he obviously is. I have never felt such relief exiting a venue. Seriously, someone shoot me! I guess I'll netflix some of his films to see why he's a big deal. I get the feeling even if I WAS an obsessive fan of Mr. Kim, I'd still want someone to shoot me to put me out of my misery in this film. Narcissistic self indulgence just isn't my cup of tea.
Ching Tan
Discussion Forum
Discuss Arirang on our Movie forum!
News & Features