Aristide and the Endless Revolution
(2005)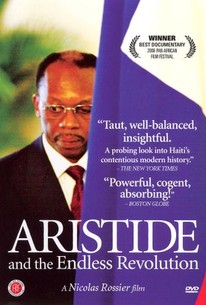 Movie Info
Jean-Bertrand Aristide was the first democratically elected president of Haiti, a nation long marked by political instability and corruption, but while the former Catholic priest was voted in as a friend of the poor and the disadvantaged, staying in office proved to be his greatest challenge. Aristide was first sworn into office on February 7, 1991, but a military coup removed him from office seven months later. Aristide went into exile in Venezuela and later the United States, but after the collapse of the military regime that staged the coup, he returned to Haiti and served as president from 1994 to 1996. Prevented by the law from succeeding himself in office, Aristide was reelected president in 2001, but another coup in 2004 ended his term in office, and the leader went into exile once again, this time in South Africa. Aristide claims that the second coup coincided with his being kidnapped by American intelligence agents, and a number of political analysts and activists, including Noam Chomsky and U.S. congresswoman Maxine Waters, contend that the United States government directly interfered with Aristide's rule in favor of the right-wing military regime. However, others have argued that Aristide's administration fell into widespread corruption, and that he was removed from office for the good of the people. Aristide and the Endless Revolution is a documentary which features extensive interviews with Jean-Bertrand Aristide as he discusses his political career in Haiti, and with others who speak out in support of the leader (Noam Chomsky, Maxine Waters, Danny Glover) as well as those who oppose his rule, including former U.S. Secretary of State Roger Noriega and Timothy Carney, an American ambassador to Haiti during Aristide's administration.
Rating:
NR
Genre:
,
Directed By:
In Theaters:
On DVD:
Runtime:
Studio:
Baraka Productions
Critic Reviews for Aristide and the Endless Revolution
Audience Reviews for Aristide and the Endless Revolution
½
This movie is a great introduction to the issues currently plaguing Haiti. I liked that people of all opinions are included...very informative.
Dimity Palazzola
½
Excellent, and infuriating. It's interesting that there's a review that says this movie is balanced because I think the anti-Aristide people look like fools. And Aristide is so cute....his eyes....oh it's like Thom Yorke from Radiohead. "Philippe is more American than Aristide, baby / Despite the fact that Aristide was elected / Philippe recognizes the voice of power and he respects it" - Son of Nun
Courtney Smith
A critical look at the role international denial of foreign aid has on Haiti, and in particular former president Aristide. The most recent denial of foreign aid (over 3 consecutive years) builds on over 200 years of embargos and financial manipulation by external forces, since Haiti fought to become the first free country in 1804, challenging the hypocrisy present in the Enlightenment which called for freedom for the bourgeoisie in France, but kept quiet on slavery in the colonies. A must see movie!
Andrea Glickman
Discussion Forum
Discuss Aristide and the Endless Revolution on our Movie forum!