Arizona Sky
(2008)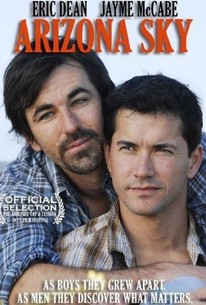 AUDIENCE SCORE
Critic Consensus: No consensus yet.
Movie Info
Twenty one years after parting ways to go on life's great adventure, two grown men who were reluctant to proclaim their love for one another as teenagers get a second shot at love under the sprawling Arizona Sky. Kyle and Jack were only kids when they spent that wonderful night together in the desert. And though their feelings of love were genuine, expressing your true self in such a small town can sometimes have devastating repercussions. Two decades later, Jake leads a joyless life as a stressed out movie producer and Kyle remains at home caring for his ailing mother and tending to the horses. After suffering a particularly disturbing panic attack, Jake makes the decision to travel back to his hometown and reconnect with his first love Kyle. Upon reuniting the two men are both surprised to discover that the spark they once shared still glows as bright as it ever did. Perhaps with a little time and some much needed tenderness both men can finally find the happiness that has eluded them all these years.
Rating:
NR
Genre:
, ,
Directed By:
Written By:
On DVD:
Runtime:
Audience Reviews for Arizona Sky
½
Yeah this movie is a little slow and doesn't have the best productiona value BUT watching this reminds me of how much progress weve made as a people. Not too many years ago a movie about love from a gay man's perspective wouldn't jhave had a snowball's chance in hell of being made. Now even us gay folk can enjoy B movies:-)
D G
A begrudging 3 stars for Arizona Sky. I am not sure if it was simply Eric Dean's bad acting or just a lousy overly dramatic script but I think this little 90 minutes film could have been so much better. I am giving this the benefit of the doubt because I have no idea what it could be like to grow up in an extremely small town (even though I was raised in the country), and be uncertain of yourself and uncertain of your best friend and to carry those scars of longing as well as the shyness and naivety of youth all the way 15 years into adulthood and still act basically the same. I suppose it is possible but come on, forJake to basically stand there emotionless while his childhood best friend literally laid all his guts out time and again and to remain so totally emotionless was just too much for me to bear. Still, a decent performance from Jayme McCabe as Kyle and Patricia Place as his aunt balance this out to where it was watchable. The director Jeff London really needs to loosen up and let the actors act. I think he just tried to hard to make the adult characters seem like the same people as they were when kids.
David Arizona
Arizona Sky Quotes
There are no approved quotes yet for this movie.