Armed Response
(1986)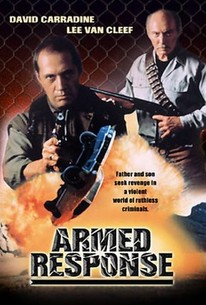 AUDIENCE SCORE
Critic Consensus: No consensus yet.
Movie Info
Fred Olen Ray always manages to attract major names to his bargain-basement actioners, and Armed Response is no exception. The scene is Chinatown, where Yakuza boss Mako yearns to get his hands on a stolen jade statue. David Goss, son of retired cop Lee van Cleef and the brother of Vietnam veterans David Carradine and Brent Huff, is hired by Mako to deliver half a million dollars to the crooks who've got the statue. Things go awry, ending in a shootout. Mortally wounded, Goss brings the statue home, at which point a vengeful Carradine picks up the storyline.
Rating:
R
Genre:
, ,
Directed By:
Written By:
On DVD:
Runtime:
Studio:
Cinetel Films
Critic Reviews for Armed Response
There are no critic reviews yet for Armed Response. Keep checking Rotten Tomatoes for updates!
Audience Reviews for Armed Response
There are two sides to every war. There are the chivalrous heroes and the treacherous villains. The honorable heroes include Burt Roth (Lee Van Cleef), and his sons, Jim (David Carradine), a Vietnam Veteran, Tommy (Brent Huff), and Private Eye Clay Roth (David Goss). This close-knit family will either go down fighting or stand together in victory. Now, meet the bad guys. The ringleader is Akira Tanaka (Mako), the insidious mob boss who controls the Japanese Yakuza in Los Angeles. This antagonist gives new meaning to the word "evil." Then, there is F.C. (Michael Berryman), a gigantic bodyguard who is seemingly impregnable. When this guy gives you a fortune cookie, be afraid...be very afraid. Get ready to panic, for that is just a sign of heinous things to come... The setting is the mean streets of Los Angeles's Chinatown. The object of affection is a priceless Jade statue. The Yakuza has intended to use this statue as a "gift" of reconciliation for the Chinese mob. However, after murdering one of his own perfidious men, Tanaka realizes that the statue has fallen in the hands of someone else. Tanaka wants this Jade statue back...and he is willing to torture any soul just to obtain that prized possession... The Roth family realizes that after one of their own kin unwittingly clutches the Jade statue in his hands, Tanaka is targeting them for termination. They have no choice. The Roth family has only one option: WAR. The forces of good and evil will clash in a fists-and-firepower battle. The Roth family is prepared...the only proper response...is an ARMED RESPONSE... One of the best attributes of Armed Response is its all-star cast. With favorites including David Carradine, Lee Van Cleef, Mako, Michael Berryman, et. al., Armed Response is armed with a terrific cast. The cast is glowing with talented character actors and actresses. Both David Carradine and Lee Van Cleef are capable as a father-and-son fighting duo who are bonded by courage, strength, and honor. Carradine may not portray the most poignant Vietnam Veteran, but at least his character still has intermittent flashbacks of the horrors of the Vietnam War. Yeah, the Vietnam settings aren't really accurate, but give director Fred Olen Rey credit for trying. Mako is great as the sadistically evil bad guy who is a master of torture! He may be an intelligent nemesis, but sadism is his true forte. Ross Hagen is cool as a backstabbing con artist who is posing as a detective. This guy is only interested in making a profit. Laurene Landon and Dick Miller are amusing as a couple of thieves who are also weapons experts, mind you. Michael Berryman, best known for playing Pluto in the cult classic The Hills Have Eyes, plays it straight as Tanaka's right-hand henchman. Armed Response features some of the best exploitation veterans in this particular genre. Armed Response is not bad for a B-movie. For a mere budget of probably not more then a couple million dollars, this film features a lot of explosive car crashes and high caliber thrills. Armed Response is reasonably fast-paced with a few expertly directed action scenes and stunts. Cars flip over and explode with regularity. Bad guys leap when they are killed in action. Another redeeming factor is the film's mordant sense of humor. In a way, Armed Response satirizes on the action genre itself, poking fun at certain types of characters, behavioral mannerisms, and character stereotypes. This film also benefits by having a few genuinely funny moments, though some of the humor is of the grade school variety (e.g., Hagen's character quips that he shot a woman's tits off after shooting her in the chest during a shootout). Though Armed Response is much better than some of its B-movie competition, it is still, nonetheless, a low budget film with its defects. Though the cast is excellent, the material and plot are very simplistic. This movie is nothing more than a simple tale of heroes with a vengeance. There are a few attempts to deviate from the plot, but those are nothing exceptional. If only the characters and storyline had more insight, then maybe this movie could have been a more riveting thriller. The Asian villains are also straight out of a Fu Manchu picture, and this movie doesn't exactly have the most glowing portrayal of Asians. Though Tanaka has one of the best one-liners. While interrogating one of the Roth brothers using ancient Oriental torture tactics, Tanaka remarks: "Here we go once again...the evil yellow man torturing the valiant white hero." I got a good laugh out of that line. I like how this movie makes fun of stereotyping Asian villains and that American jingoism can go overboard. If you want to see an enjoyable B-movie, then look no further. Your search has ended here. This is one of Fred Olen Ray's finest and foremost action films. Armed Response is definitely worth a Saturday night rental. Granted, some people may detest this movie's blatant jingoism, but the overall permeating silliness of this movie makes you glad that it was made strictly for fun. This movie does not demand to be taken seriously at all. Armed Response is an unrealized action flick that did not deserve to be ignored by critics. Though this movie may fall short of being an ambitious thriller, it works perfectly as perfunctory, crowd-pleasing lunacy for action fans. Armed Response may be high calorie junk food, but there's nothing wrong with indulging yourself once in a while. I'll see you at the bar.
Philip Jon
Pretty tv grade conflict between David Carradine, a bald, aging Lee Van Cleef and some asian godfather that tries to simulate elements of Miami Vice. For instance, wet streets at night, neon lights, shootouts, sythesizer soundtrack. A Japanese crime boss hires two private investegators, Clay and Cory Roth, to exchange ransom money for a stolen statue. The exchange goes bad and Clay is murdered as a result of foul play. His brother and father vow to seek revenge on the men responsible for Clay's murder, and they won't stop until they get every last one. The shootout in the end is predictable and the grenade throwing David Carradine is as preposterous as the end of the crime boss after him. Not a terrible film, still not approaching average either. Cast David Carradine (lead actor and revenge seeker) Lee Van Cleef (dad of David) Mako Lois Hamilton Ross Hagen Brent Huff Laurene Landon Dick Miller Michael Berryman Crew Director: Fred Olen Ray Cinematographer: T.L. Lankford Cinematographer: Paul Elliot Composer: Thomas Chase Composer: Steve Rucker Co-Producer : Fred Olen Ray Editor: Miriam L. Preissel Executive Producer: Lisa M. Hansen Producer: Paul Hertzberg Story by: Paul Hertzberg Story by: Fred Olen Ray
monsieur rick
½
Out of the hundred films schlock director Fred Olen Ray directed throughout the 80's, only a few really stood out and managed to liven up the entertainment value and experience. One such film was the over-the-top actioner Armed Response, where Ray was lucky enough to assemble of who's who of cult icons as the film's cast. Armed Response focuses on a heavily testosterone-fueled family comprised of matriarchal retired cop dad (the late great Lee Van Cleef) and his three sons, including Vietnam vets/bar owners David Carradine and Brent Huff, and private eye David Goss. When Goss gets caught up in a shady deal with partner Ross Hagen and the Chinese Yakuza (led by Mako) and killed over a precious statue, the entire family embarks on a journey towards serving up vengeance. To add to the film's already bedazzling cast, there are supporting roles from the likes of Dick Miller (Gremlins 1 & 2), Laurene Landon (Maniac Cop 1 & 2), Cary-Hiroyuki Tagawa (Mortal Kombat), and Michael Berryman (The Hills Have Eyes 1 & 2). As far as nudity is concern, it's skimpy (no pun intended). Luckily, I was graced with a brief titty shot from my ultimate 80's crush, Michelle Bauer. Aside from that, the movie is 110% pure, action cheese with over-the-top scenes of explosions, gunplay, and the occasion kung-fu. The entire cast is fun to watch in this film, especially leads Carradine and Cleef. As far as silly 80's, low-budget action movies go, this one provides the goods, especially if watching with friends and beer. Good stuff.
Jason Duron
Armed Response Quotes
There are no approved quotes yet for this movie.