Armitage - Dual Matrix
(2002)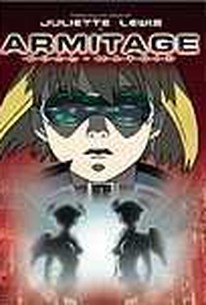 AUDIENCE SCORE
Critic Consensus: No consensus yet.
Armitage - Dual Matrix Videos
Armitage - Dual Matrix Photos
Movie Info
This follow-up to the popular animé feature Armitage III: Poly-Matrix continues to explore human-versus-cyborg relations against a futuristic, super-industrialized backdrop. In the year 2185, six years after the events of the first film, Ross Sylibus has settled down into placid domestic life on Mars with Naomi Armitage, his crime-fighting cyborg partner/love interest from the first film. When riots break out back on Earth, however, Armitage feels compelled to leave her family behind and investigate. What she finds shocks her: At an anti-matter plant, scientists are creating an illegal strain of robot, called "Third Types." Though Armitage herself is a Third Type, she fought against the further creation of these humanoids. Now, she finds she's going to have to take on an army of herself -- genetically engineered clones of herself, that is. English-language versions of this film feature Juliette Lewis as Armitage, replacing Armitage III's English-speaking lead, Elizabeth Berkley. ~ Michael Hastings, Rovi
Rating:
R
Genre:
, , ,
Directed By:
In Theaters:
On DVD:
Runtime:
Studio:
Pioneer
Audience Reviews for Armitage - Dual Matrix
The music is just right. Excellent story telling skills and visually appealing. The passion and the feeling was there.
Quincy Jackson
[img]http://www.nippofan-magazine.it/nippofan/immagini/armitage%20DMcover.jpg[/img]not that great, but not that bad either. A pretty good watch, with quite a bit of action.
Robert Alley
½
[i]Armitage: Dual Matrix[/i] reunites the two central characters from the multi-part, cyberpunk animated series set on a future Martian colony, [i]Armitage III: Poly-Matrix[/i], Ross Sylibus (voiced by Skip Stellrecht) and Naomi Armitage (Juliette Lewis). Sylibus, a former police officer, and Armitage, a former police officer and third (a highly advanced cyborg capable of individuality and procreation), have fled, more or less underground, after the events in the original animated series made both of them fugitives. The sequel, a straight-to-video feature-length film, combines traditional, hand-drawn animation with computer-generated imaging. Viewers expecting character depth or a credible plot may have to look elsewhere, but when [i]Armitage: Dual Matrix[/i] dispenses with plot and exposition and into straight action (essentially the second half), pitting the lead characters against two ruthless, Terminator-like cyborgs, a modestly entertaining animé emerges. The plot in [i]Armitage: Dual Matrix[/i] borrows heavily from the original series, replacing a government conspiracy to eliminate thirds on Mars with a corporate scheme to uncover the secret behind Naomi's unique ability to procreate. [i]Armitage: Dual Matrix[/i] also borrows its predecessor's blend of massive firepower and mayhem, sometimes to superior effect. [i]Armitage: Dual Matrix[/i] opens several years after the events in the first series/film. Ross and Naomi have disappeared into new identities, with Ross working as a security guard and Naomi happily playing homemaker and mother. They also have a young, pre-adolescent daughter, Yoko. Their picture postcard life quickly unravels, however, as Naomi receives a transmission from a dying third on Earth. The third was part of a secret government experiment located on a secluded island. Earthers presume the third was part of a cyborg revolt, violently put down by a group of commandos, at great loss. Naomi assumes otherwise and heads off to Earth, to Chicago. On Earth, Naomi encounters the principal villain, Dimitrios, the head of the Earth Robotics Corporation. Back on Mars, Ross single-handedly defeats a group of well-trained, heavily armed commandos (presumably terrorists) attempting to destroy a fuel storage facility. Hailed as a hero by the Martian media, Ross becomes a replacement delegate to a governmental conference on Earth, in Chicago (the subject: robot or cyborg rights). Taking Yoko with him to Earth (for no credible reason except to place Yoko in danger at the appropriate time). Yoko is effortlessly kidnapped by Dimitrio's men from Ross' hotel and held for ransom. Dimitrios, however, offers Ross an even exchange: Ross' "no" vote at the conference for Yoko's safe return. Naomi and Ross find each other, effectively joining the two plotlines. From there, the goal is obvious, recovering and saving Yoko from Dimitrios. Before they can rescue Yoko, however, Ross and Naomi must fight their way through a gauntlet, specifically two other thirds, hard wired into combat cyborgs. The replicas have abilities not shared by Naomi, including the power of flight, retractable blades, and in-line skates built into their feet. The twins are incapable of speech, with the exception of constant (and annoying) giggling. The climax takes Ross, Naomi, and the twins from a battle inside the Earth Robotics Corporation to hand-to-hand combat aboard moving lifts (the lifts connect Chicago to an orbital elevator). The running battle between Ross, Naomi and the cyborg twins takes almost half the running time in [i]Armitage: Dual Matrix[/i] and functions as the centerpiece of the film. This set piece blends the 2D and 3D better than earlier action scenes, where the CGI is poorly integrated into the 2D animation. Story wise, [i]Armitage: Dual Matrix[/i] offers little beyond the first series/film. The director, Katsuhito Akiyama, and his screenwriters, Naoko Hasegawa and Hideki Kakinuma, play it relatively safe, choosing to repeat key elements from the original series, even centering the main plotline on Naomi's unique abilities (again). Hasegawa and Kakinuma also prove themselves lazy scriptwriters, often dispensing with logic (e.g., Ross bringing his daughter to Earth) or simply failing to provide an answer to the central question, except with banalities. Akiyama and his screenwriters do keep the pacing in [i]Armitage: Dual Matrix[/i] tightly focused, especially in the second half, when the conspiracy element becomes a mere distraction from the pursuit plot, which owes a great deal to [i]The Terminator[/i] films. Akiyama could have also better handled the integration of 2D and 3D animation and avoided the constant horizontal and vertical panning that seems to open or close every scene in the first half, but for most animé fans, these problems will be easily overlooked.
Mel Valentin
Armitage - Dual Matrix Quotes
There are no approved quotes yet for this movie.