Armstrong
(1998)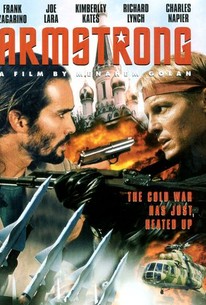 AUDIENCE SCORE
Critic Consensus: No consensus yet.
Movie Info
Following the murder of a good friend, an ex-government operative teams up with the widow of the deceased to find the killer.
Rating:
R (For violence, sexuality, and language)
Genre:
Directed By:
Written By:
In Theaters:
On DVD:
Runtime:
Studio:
Golan/Dadon Impact Pictures International
Critic Reviews for Armstrong
There are no critic reviews yet for Armstrong. Keep checking Rotten Tomatoes for updates!
Audience Reviews for Armstrong
A film that stars great actors such as Frank Zagarino, Richard Lynch, Charles Napier, and Joe Lara. Armstrong is an action movie set in Russia and directed by the famous Menahem Golan. Of course there are great one liners and some actions scenes. This is a film that I expected exactly what I got and was pleased. The movie has some great moments especially the Joe Lara character and how he is known only has ponytail. Frank Zagarino dual wields machine guns and fricking owns it up at the end. The chase scene with Kimberly Kates wet t shirt is pretty funny too. Overall, I got what I wanted and was pleased. Enough action to suffice.
Matthew Marks
Sometimes I come on this site and realize there are thousands upon thousands of movies in existence. I wonder how so many could be made, and then I think about cheap, simplistic movies like Armstrong and my wonders cease. Don't let familiar faces drag you to see this. All of them have been in a lot better movies, and it is a mystic puzzle how they could all participate in this. Frank Zagarino can be a good actor when he wants to, and is a hoot in the Project: Shadowchaser movies, Joe Lara was in Hologram Man, which was a pleasant surprise for me and Charles Napier and Richard Lynch are veterans in the industry. But there is so much wrong with Armstrong that it is impossible to cover all the negative points and tough to decide where to start. Speaking of plot, you've probably seen hundreds of similar, better movies with the same plot, and can figure out every step of this one. Heck, the moment one sees Richard Lynch as a Russian colonel, you know he'll turn out to be corrupt. Even I could ignore the triviality of the plot, but the rest is inexcusable. The direction is awful. It jumps from scene to scene without a piece of inspiration. The action is really bad, and I doubt if even a good director could make them exciting with the script that this movie has. The horrible dialogue is what makes you embarrassed to be viewing the film over all the other bad points.
Steven Vincent Gee
Super Reviewer
Former Navy SEAL "Rod Armstrong" (Frank Zagarino) is now a freelance military trainer living in Moscow, Russia, who is unexpectently visited by the man (Charles Napier) who trained him as a SEAL. "Bob" (Napier) is accompanied to Moscow by his wife (Kimberly Kates), whom he also trained as a SEAL, for a vacation. However, "Bob" is there to recruit "Armstrong" to help in with a Special Ops mission from the President himself. "Bob" has brought a video tape with him which shows a Russian military base housing missiles with nuclear warheads that are being purchased on the Black Market. However, when "Bob" gets murdered, it's up to "Armstrong", "Susan" and a Russian soldier to bring those responsible to justice. This is a pretty disappointing from the action standpoint. Yes, it has gunplay. But there really is nothing spectacular. There are also some fist fights, short car chases and chases on foot. The acting is a little better, but is hindered by a fairly weak script. Napier should have been one of the villains in this movie due to making a name for himself for playing tough guys. He also could have done better as one of the lead Russian villains. There is little character development in this movie. You are told, through dialogue, some background information on characters, but not much. There is also little chemistry between the characters. I felt that the muscle behind one of the villains were really weak. I am surprised that "Susan" (Kates) ran away from these guys, they were that menacing. Another thing I didn't like was that Moscow was not used properly. Probably because this movie was low budget, they avoided filming at well known locations in the city, and used rather boring local locations from off the beaten path. The performances are pretty weak all around, probably due to a weak script. Zagarino is a weak leading action star, and his performance went up and down during the entire movie. Sometimes it looked as if he was looking off camera to a cue card to read his lines. Both lead villains, one of which wasn't on screen much, were not menacing -- especially the one who went after "Susan" and "Armstrong" for the tape. If you ask me, it appears that they forgot that "Bob" said early on that he trained "Susan" and made her the damsel in distress typical of these movies. But, because there was no personal relationship between she and "Armstrong", his pursuit to save her from the villains was really empty. Because of the budget, the sets really lacked in this movie. Some places looked as if they were just spruced up by the set designers to make them look like what they were suppose to be. Many of the interiors were pretty boring in fact. I can understand why Comcast placed this in the Free Movies section of On Demand. Nobody would buy this, but might check it out if it's on HBO and there is nothing else is on.
Mickey Micklon
Armstrong Quotes
There are no approved quotes yet for this movie.
Discussion Forum
Discuss Armstrong on our Movie forum!