Army of Crime (L'Armée du Crime)
(2010)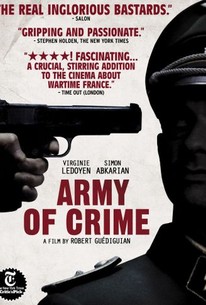 Army of Crime (L'Armée du Crime) Photos
Movie Info
ARMY OF CRIME is a revealing thriller about the very first days of the French Resistance to Nazi occupation, a time when many of the movement's leaders and foot soldiers were often foreigners - Poles, Jews, Armenians, Spaniards, Italians - who feared French collaborators as much as the Germans. Armenian poet Missak Manouchian, portrayed in a stand-out performance by Simon Abkarian, and his French wife Mélinée, played by the luminous Virginie Ledoyen, lead a resolute assortment of volunteers against German occupiers and their French allies. Varying in their actual homelands, and in their personal and tragic reasons for joining the struggle, they are united by the understanding that the danger and ferocity of Nazi oppression will only increase unless squarely confronted. Their valiant plot to assassinate a general ultimately shows that resistance is indeed possible, but their activity attracts the attention of the German high command, which extracts from their act of defiance an unforgettable lesson for the French people. -- (C) Lorber
News & Interviews for Army of Crime (L'Armée du Crime)
Critic Reviews for Army of Crime (L'Armée du Crime)
Audience Reviews for Army of Crime (L'Armée du Crime)
"I think of a hero as someone who understands the degree of responsibility that comes with his freedom." --Bob Dylan
Randy Tippy
Super Reviewer
½
There is something deeply admirable in trying to honor the lives of the international resistance in France(some of who also fought in the Spanish Civil War) during the Nazi occupation, showing that the struggle was bigger than any one country. At the same time, they fed into Nazi propaganda by almost confirming that there is an international Communist conspiracy, thus the title. If contradictory impulses was the biggest fault of "Army of Crime," there still might be enough to salvage here, but a distressing lack of focus and depth dooms the movie to mediocrity. "Army Of Crime" starts with a roll call of the dead with several characters in custody, allowing French authorities to impress the Nazis when it comes to torture.(Anybody who receives a compliment from a Nazi is surely going to hell.) Rewind to 1942 when French Jews feel they have little to fear yet and Germany has just invaded the Soviet Union. In response to that, Marcel Rayman(Robinson Stevenin) has taken to the streets to paint hammer and sickles to show his displeasure of the occupation with his friend Henri Krasucki(Adrien Jolivet) occasionally in tow, before escalating to acts of violence. But none of that is as interesting as the story of Missak Manouchian(Simon Abkarian), a survivor of the Armenian genocide and resistance leader, his life allowing the movie to make a direct connection between atrocities. Sadly, he disappears from the narrative for stretches, allowing for other business to take center stage like assignations and swimming meets, not allowing any narrative momentum to build.
Leave it to the French to make a movie like this slow, and tedious. But, it is a good depiction of what it's like to live under Nazi occupation. Ordinary, non-violent citizens become a resistance group against evil. In this case, based on true events, people become incredibly courageous and commit acts of revenge against the Nazis. But are finally undone by the French collaborators, in the government and public. Beautifully filmed, and acted.
Cynthia S.
Super Reviewer
Army of Crime (L'Armée du Crime) Quotes
There are no approved quotes yet for this movie.