Arna's Children
(2004)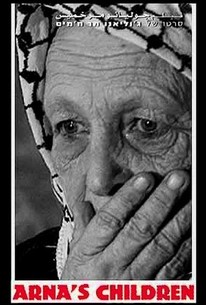 Movie Info
Arna Mer (1929-1995) led in the last years of her life a small theatre group of Palestinian children on the West Bank. Her son Juliano, who directed the group, used his camera all those years to film the rehearsals and performances of the plays. The theatre closed a couple of years ago after the Israeli occupation. Back in Jenin he discovers, little by little, the tragic story of the theatre children who were so dear to him.
Critic Reviews for Arna's Children
Audience Reviews for Arna's Children
To start, this is a documentary about Arna Mer-Khamis who was born Jewish in Galilee and later married a Palestinian man. She would go on to fight for Palestinian rights, using some of the prize money from an Alternate Nobel Peace Prize to fund a theater for the children of the occupied territories. But even as her health faded, her spirit of resistance never did, even going out to protest right after chemotherapy treatments. Later, her legacy would be so complicated that the only place to bury her would be a Kibbutz. And that's where her son Juliano enters the picture as he returns to the former theatre after her death to see what happened to her former pupils. Sadly, none of the news is good, as he arrives just after a blockade has been lifted by Israel but while the fighting still continues. So, as he is on hand to get first hand scenes of the devastation, we also get a sense of how futile an armed struggle is against Israel. In the end, "Arna's Children" evokes and provokes strong emotions, seamlessly weaving together footage shot in different times and places.
Arna's Children Quotes
There are no approved quotes yet for this movie.