Aroused
(2013)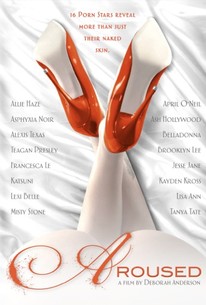 Movie Info
SYNOPSIS: Get up close and personal with 16 of the most successful women in the adult film industry as they shed their clothes for an intimate photo shoot with director Deborah Anderson. As questions are asked, personal stories about their lives are revealed, from why they chose the business of sex to how they got into it in the first place. These porn stars have always been discreet about their private lives in the past, yet Anderson has a way of opening up a dialog allowing them to share more than just their naked skin on screen. Their true inner vulnerability is touching, yet the characters they have created are confident and intoxicating. Once you hear their stories, you'll never look at them in the same way again. (c) Ketchup
Rating:
R
Genre:
,
Directed By:
Written By:
In Theaters:
On DVD:
Runtime:
Studio:
Critic Reviews for Aroused
Audience Reviews for Aroused
I read a few of the reviews while I was watching this and a phrase that leapt out at me was "desperately feminist". While mostly a misguided sexist sentiment, there's a sort of truth to it too. Most of the reviews are very defensive of Deborah Anderson's execution of her exploration into the world of porn models. I wouldn't attack her for being pretentious or arrogant. Her perspective is represented in the film and it is a far cry from being objective... but few praised documentaries are. Some criticize the film even objectifies the models - and that's where I have separate myself from these other viewers. There's absolutely this primal disgust people have with the subject of pornography. It riles people up. This film discusses that and then we see the other side get extremely defensive about their own position. And sadly this is why nothing constructive about the subject material ever seems to take place. That aside, the documentary talks a little about the business. It is a business and it is managed very efficiently. It is a dying business as nudity has become so prevalent Miley Cyrus offers nudes of herself frequently - and piracy is making it an industry that cannot operate as widely as it has been. There's a good documentary in that exploration right there. But in this one, it's much more a coffee table discussion with 16 models and spliced together quickly. It's hard to get to know any particular model very well because they just don't have the screentime. Worse, towards the end, structure almost completely goes out the window as the models offering what some could call soapboxing takes over and becomes a 20 minute lecture of why civilians are more screwed up than them. It was disappointing to see the structure the film had otherwise just kind of melt away for a more ambiguous discussion about the dark side of the industry and the defensive hostility it arises. As this is a civil conversation, that darkness is not talked about in explicit detail, but then again TMZ openly reports on HIV outbreaks in porn and every time a porn model ends up involved in homicide or attempted homicide (War Machine nearly killing Christy Mack, anyone?) does the film need to get into it when we all know the story anyway? This "review" is already longer than any of my others because there's good discussions to be made both about this film and about its topic (Who remembers Belle Knox for example? She's still going to college and still receives death threats). Unfortunately, my friends make up the people that are immediately repulsed by openly discussing pornography, so things I express here I really can't express anywhere else... Which this documentary is kind of about, isn't it? Well played. Final thought: This documentary is a good conversation piece to have with someone or if you are just interested in the topic. It will not change your minds and it will not enlighten you either. For that, three stars, but an overall positive review.
Robert I (Master of All Movies)
½
Through a series of wide ranging interviews with 16 female adult film performers, the documentary "Aroused" provides a unique and perceptive look at the industry. The different answers help to destroy any preconceived notions the viewer might have had about who these women really are and the paths their lives have taken. As an added bonus, there is an interview with a talent agent who has some helpful hints. Granted, framing this around a nude glamor photoshoot might seem a bit odd at first, but here it works in a documentary that is as much as about deglamorizing pornography as anything else.
Some interesting, informative, and surprising revelations from porn stars smothered by a pretentious presentation. Director Deborah Anderson's monologues show an obnoxious arrogance and pompous self-importance over this project - hey lady, you take portraits of famous people, that's hardly on the same level of capturing the flag-raising at Iwo Jima. Her approach is even self-defeating: she wants to show how women in the adult industry are regular people and individuals, but by tightly focusing on a single body part (an eye, the lips, a hand) while cross-cutting interviews with sixteen subjects, it's impossible to sort out who exactly says what. Despite this, certain distinct personalities emerge, with Asphyxia Noir, Misty Stone, Allie Haze, Katsuni, and Alexis Texas distinguishing themselves. The mood is predominantly positive, many of the women obviously enjoy what they do, and there are surprisingly few sob stories. I rather suspect that's a function of the nature of the interview as the women are asked questions while sitting in the makeup chair getting ready for a sexy photoshoot - you aren't going to want to upset your subjects then, right? The more pointed interview with a talent agent paints a bleaker picture.
Doctor Strangeblog
Super Reviewer
Aroused Quotes
There are no approved quotes yet for this movie.
Discussion Forum
Discuss Aroused on our Movie forum!