Arsenal
(1928)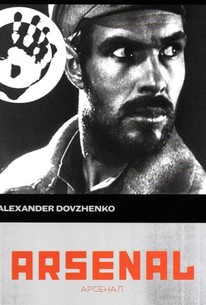 Movie Info
Imaginative tour-de-force by the great Soviet writer/director Alexander Dovzhenko, who uses a barrage of poetic, surreal images to depict the repression of a strike in the Ukraine during the final year of World War I.
Critic Reviews for Arsenal
Audience Reviews for Arsenal
Dovzhenko's grim telling of a Bolshevik uprising against against a bourgeois Ukranian nationalist movement, resulting in a bloody munitions factory strike. The camerawork and editing are phenomenal, and the film packs a lot of punch. However, much of it is confusing and I needed the audio commentary to clear up a lot of the context (the commentator also notes that Dovzhenko often preferred cryptic narrative styles). I liked it quite a bit more than Earth, though.
Martin Teller
½
Ukraine's struggle for independence, in the turbulent late Czarist era, is used as a backdrop for this didactic paean to the Working Class. Even more patronizing than Dovzhenko's "Earth", though no less brilliant from an editing perspective. We are left with a series of images, drawn out for unreasonable lengths, that fail to connect organically with one another. The sequence of the soldier tripping on laughing gas, intercut with the silhouetted execution of a pacifist, is chilling. Along with the train crash and climactic urban warfare, "Arsenal" creates wonderful spectacle. Too bad the ending is so awful, hammering you in the face with the nobility of our hero, who might as well be named Everyworker, that it comes across as parody. As is typical for propagandistic fare, the story doesn't really end so much as display "RISE UP, COMRADE WORKER" in huge block letters.
Kevin McCormick
½
don't you dare watch if you like things that come anywhere close to cohesion or a plot. what this is does not constitute a story. it is a one-note painting of soviet propaganda. this film is filled with moments of sheer genius (the excellent use of silhouettes and parallel juxtaposition comes to mind) and moments of sheer incompetence, and many of them are congruent. for example, in ninety percent of closeups the actor stands still, and some of these are in dialogue. there is dialogue for horses at two points. and these are not near the maximum when it comes to the departure from the literal or the realistic. this film represents a zenith of montage-based abstraction.
Jason Dennis
Arsenal Quotes
There are no approved quotes yet for this movie.
Discussion Forum
Discuss Arsenal on our Movie forum!