Article 99
(1992)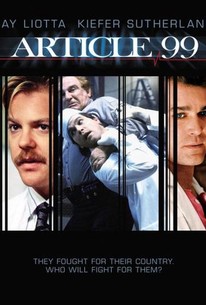 Movie Info
This film's title refers to a fictional legal loophole which states that American veterans cannot be treated in VA hospitals unless their illnesses are related to military service. The pinchpenny administrator of a Kansas City hospital intends to follow this proviso, while his irreverent staff tries to circumvent the rules.
Rating:
R
Genre:
,
Directed By:
Written By:
In Theaters:
On DVD:
Runtime:
Studio:
Orion Home Video
Critic Reviews for Article 99
Audience Reviews for Article 99
½
Article 99 (Howard Deutch, 1991) [originally posted 18Jun2001] Here's an interesting concept. Take a director whose career is rapidly fading, give him a star whose career is rapidly fading, and stock his film with rising stars. Think you can come up with a saleable product? You can if you're Howard Deutch (Pretty in Pink) and Kiefer Sutherland (The Lost Boys). Article 99 was the last good film Sutherland made before the dry spell that ended with Dark City; Deutch is still looking for a comeback film. Sutherland is surrounded by then-rising stars who have since become household names, including Ray Liotta (fresh off the success of Goodfellas), Kathy Baker (a year before Picket Fences), Keith David (still best known for playing Childs in Carpenter's 1982 remake of The Thing), and Lynne Thigpen (who, come to think of it, still hasn't gotten the recognition she deserves). Put the lot of them in a VA hospital, as (all except David, who plays a sociopathic-but-likable Vietnam vet) they try to cut through all the red tape and just do their jobs, while the hospital's administrator (John Mahoney, now known as Frasier's dad) tries to hamstring them at every turn. It doesn't sound like a recipe for the kind of comedy Deutch is used to directing, but somehow it all works, with the doctors and the administration battling it out until things go just one step too far, as they usually do in movies. And it still could have fallen flat on its face if not for the very last scene, as the end credits begin rolling. It's a feel-good movie that doesn't allow you to feel good. Now THAT'S an accomplishment. *** 1/2
Robert Beveridge
½
Wasnt bad, I thought it would be alot better considering the cast. Loved when Keifer donned the floppy hat as his father did in M.A.S.H
½
A very entertaining film about the innovative means by which doctors in a veterans hospital try and actually help the patients,while being thwarted by bureaucratic red tape at every turn.
Audrey Lush
Super Reviewer
Article 99 Quotes
| | |
| --- | --- |
| Dr. Peter Morgan: | Why doctors have to steal medical supplies from their own damn hospital so that they can keep their patients alive. I think the TV networks really should take a look at this. |
| | |
| --- | --- |
| Dr. Henry Dreyfoos: | We're not responsible for every lunatic out there, just because he once wore a uniform. |
| | |
| --- | --- |
| Dr. Richard Sturgess: | The administrations only concerned with saving a buck. Any more cuts and we're going to be operating out on the street. |
| | |
| --- | --- |
| Dr. Richard Sturgess: | If you want to shoot someone, shoot one of those big wigs upstairs. |