Aru kengo no shogai (Samurai Saga) (Life of an Expert Swordsman)
(1959)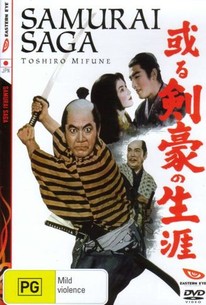 AUDIENCE SCORE
Critic Consensus: No consensus yet.
Aru kengo no shogai (Samurai Saga) (Life of an Expert Swordsman) Photos
Movie Info
In this lively Japanese samurai epic, a brave 16th-century fighter challenges an evil warrior clan after he falls in love with a beautiful princess. ~ Sandra Brennan, Rovi
Rating:
NR
Genre:
, ,
Directed By:
In Theaters:
Runtime:
Studio:
Criterion Collection
Critic Reviews for Aru kengo no shogai (Samurai Saga) (Life of an Expert Swordsman)
There are no critic reviews yet for Aru kengo no shogai (Samurai Saga) (Life of an Expert Swordsman). Keep checking Rotten Tomatoes for updates!
Audience Reviews for Aru kengo no shogai (Samurai Saga) (Life of an Expert Swordsman)
Greatest samurai in his village? As well as him getting around to other things??? Hmm some great acting and nothing much to hate but it got boring around the second half but i still liked it a lot.
Heihachiro Komaki is renowned as the greatest samurai in his village. He is a school teacher, poet, and scholar. He is called upon by Lady Ochii to protect her love interest, Jurota. Lady Ochii is sophisticated, smart, and intellectual. Jurota is from a less sophisticated society and received no schooling. Right away Ochii and Jurota fail to hit it off. Jurota must learn how to speak and write sensually from Komaki. It quickly becomes apparent that Komaki is helping Jurota because of his own love of Ochii. "Evens devils would die, so invincibly strong I am." Hiroshi Inagaki, director of Incident at Blood Pass, 47 Ronin 1 & 2, Samurai 1, 2, & 3, and I'm the Bodyguard, delivers Samurai Saga. The storyline for this picture is outstanding. The use of scenery to establish the settings and moods were perfectly depicted. The acting is outstanding, and the display of the Japanese culture during this time period is wonderful. "My sword has fallen into misuse, it's itching for exercise." The flower petal and gentle breeze plays, the elephant trunk reference, the "nose" play, the sword fight during the play, the nose references by Jurota during the story, Komaki versus the 25 men, Komaki's poetry in the shadows, the milky way reference, the samurai battle field scenes, the hillside ambush and subsequent fight, the hara-kiri scene, the rose petals reference, the reading of the final letter, and the death sequence were amongst the better portions of the film. "Heaven sets a limit to all." Samurai Saga is a triumphant picture about humility, expectations, respect, and love. Inagaki does a wonderful job of developing all the characters, both their strengths and shortcomings. Once everything is perfectly displayed, he places the characters in harsh situations and lets the audience enjoy their demises and successes. Samurai Saga is a must see picture for anyone enjoys movies. "Don't anger me with nonsense." Grade: A
Kevin Robbins
½
A Japanese Cyrano de Bergerac. The only thing I knew about Cyrano de Bergerac was that it centered around a guy with a big nose. Therefor, this was a rather pleasant surprise for me. In equal amounts, it played up Mifune's big nose for both laughs and sympathy. Mifune himself gives a great comic performance and soon transfers it over to heart shattering romance. He falls in love with a beautiful woman and he expresses this love by protecting the man she longs for. The relationship between Mifune and Takarada plays out brilliantly. There is no malice or jealousy towards his rival, Mifune tutors him in the ways of battle, life and love. His gift to the woman he loves is crafting her the perfect man. The fight scenes are well executed, coming off as real, tense but never choreographed to perfection, there's a certain roughness to them. The final scenes are wonderful examples of powerful romance dealt with restraint. An excellent film all round.
Luke Baldock
Super Reviewer
Aru kengo no shogai (Samurai Saga) (Life of an Expert Swordsman) Quotes
There are no approved quotes yet for this movie.