So weit die Füße tragen (As Far As My Feet Will Carry Me)
(2001)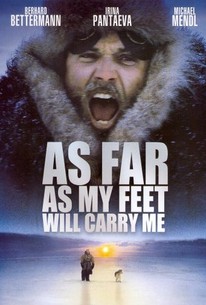 AUDIENCE SCORE
Critic Consensus: No consensus yet.
So weit die Füße tragen (As Far As My Feet Will Carry Me) Videos
So weit die Füße tragen (As Far As My Feet Will Carry Me) Photos
Movie Info
The true story of a German soldier's long and difficult journey home after being sentenced to a Russian prison camp inspired this wartime epic. In 1944, Clemens Forell (Bernhard Bettermann) leaves behind his wife and children and joins the German army, where he is sent to fight along the Russian front. After a year in the trenches, Forell is captured by Soviet forces and is sentenced to spend 25 years at hard labor, mining lead. Predictably enough, the mine proves to be a dangerous and dispiriting environment, and after three years Forell decides he can stand no more and blocks out an escape plan. Forell makes his break during the dead of winter, and while he's at first discovered by a group of hunters who intend to turn him back in, a band of Eskimos come to his rescue. Forell throws in his lot with them, eventually falling in love with the lovely granddaughter (Irina Pantayeva) of the Eskimo chieftain. After a few seasons with the Eskimos, Forell resumes his journey back home, narrowly escaping capture in Siberia and finding an unexpected ally as he tries to cross into Iran. So Weit Die Fuesse Tragen was adapted from a best-selling German novel based on an actual incident; the novel was also the basis for a popular German television series of the late '50s.
Rating:
NR
Genre:
, ,
Directed By:
Written By:
On DVD:
Runtime:
Studio:
Critic Reviews for So weit die Füße tragen (As Far As My Feet Will Carry Me)
There are no critic reviews yet for So weit die Füße tragen (As Far As My Feet Will Carry Me). Keep checking Rotten Tomatoes for updates!
Audience Reviews for So weit die Füße tragen (As Far As My Feet Will Carry Me)
Excellent film,.It kind of reminded me of CALL OF THE WILD,.Musta been the terrain or the great amount of people he meets on his journey,,..Well acted,.Good characters,.Good direction,.The lead was excellent,.I just recommend it if you have any interest in the period and strife it took to do the things this guy did,.Much better than a similar movie called "The Way Back" with Jim Sturgess and Colin Farell,.I guess it helped that this was in German and Russian,.I like subtitles and listening to the REAL language that was spoken, makes it feel much more authentic than fake accents do.
Paul Grady
A large scale adventure following one man on a three year journey through 8000 miles of rough terrain. Even though it centers on the plight of a WWII German soldier, this is a universal tale of survival against insurmountable odds.
Nick Murphy
½
Ok, I really liked this even though at times it seemed like a German version of a made-for-tv movie. I also am having a hard time believing everything that happened to him, like the part with the beautiful eskimo woman. But, all in all, it was really good. I got chills during the very last scene.
Cynthia S.
Super Reviewer