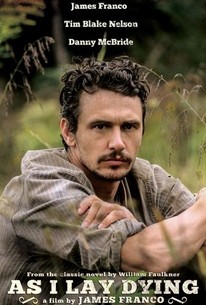 As I Lay Dying
2013, Drama, 1h 50m
29 Reviews
2,500+ Ratings
What to know
critics consensus
As I Lay Dying finds director, star, and co-writer James Franco attempting to adapt one of William Faulkner's weightier works, with disappointingly muddled results. Read critic reviews
Rate And Review
Movie Info
Strife and disaster befall a poor Mississippi family during a two-day trip by horse and wagon to bury their deceased matriarch.
News & Interviews for As I Lay Dying
Audience Reviews for As I Lay Dying
As their mother dies, a family journeys across the county to bury her. Dear James Franco, Stop. Thanks, Jim While adapting William Faulkner's multi-voiced and complexly written novel is no easy task, James Franco's film fails on almost every level. It seems like everybody who had an idea got their idea into the film, and the result is a mishmash shitfest. The split-screen, direct address of the camera, the shots of Tim Blake Nelson drooling all combine to prove that James Franco should never direct a film again. Let's just take the split-screens: I've almost never seen split-screens work (the one exception that immediately comes to mind is (500) Days of Summer), but the reason they don't work is they take a responsibility that should belong to the director and transfer that responsibility to the audience. Rather than choosing what to show you, Franco puts the onus on you to decide what to watch. Likewise the direct address shots and reaction shots are indicative of a filmmaker who can't tell his story visually. On the positive side, when I read the novel, I imagined Tim Blake Nelson and Logan Marshall-Green in these roles. The casting is perfect, and while the script isn't good, these actors make it seem better than it is. Overall, I hope James Franco goes back to just looking good in movies.

This drama based on the novel As I Lay Dying by William Fulkner seemed like a difficult task for anyone, but it seemed that James Franco didn't think so... he was the star, co-writer and a director and did an amazing job! There is no wonder that his directorial debut was screened in the Un Certain Regard section at the 2013 Cannes Film Festival - simply deserved it! One of the bravest brave and most interesting attempts to pull off a film with a high degree of difficulty. The story of a grim journey which becomes a tragic ordeal of poverty and misery was unforgettable. Franco co-stars as Darl Bundren, the glowering son in a dirt-poor family in rural Mississippi. Tim Blake Nelson is the haggard, toothless father Anse, and Beth Grant plays the dying mother Addie Bundren. Jim Parrack and Logan Marshall-Green play Cash and Jewel, the other two grownup brothers; Ahna O'Reilly plays their sister Dewey and Brady Permenter is the smallest child, Vardaman. When Addie dies, the family attempts to honour her last wish for a burial in her far-off hometown of Jackson, a plan that necessitates taking the body on a long journey in a home-carpentered coffin on the back of a precarious horse-drawn cart, with the whole family glumly along for the ride. One of the most interesting productions in the recent ways has Franco presenting the big part of the story in split screen. Long, unhurried scenes will unfold, with mumbled, throwaway dialogue (I really had a problem with the accent, almost half of the movie was difficult to understand). Franco is skilfully using two different frames, left and right: sometimes they will show two differing and significant shots, sometimes hardly more than a fractured version of the same shot. Sometimes they will be two almost exactly similar shots of the same featureless sky, with the non-matching vertical join line almost invisible. Lots of critics will take this as gimmicky and self-conscious, but it is consistently and seriously presented, and Franco's As I Lay Dying is a worthwhile movie, approached in an intelligent and creative spirit. Acting of the whole cast was very strong, with a star turn from Nelson as the prematurely aged patriarch - transformation which is to be seen to be believed! If you are interested in all this presented lucidly and confidently - check this film!
See Details