Kings Go Forth
(1958)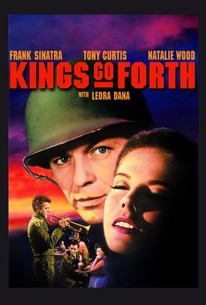 AUDIENCE SCORE
Critic Consensus: No consensus yet.
Movie Info
Adapted by Merle Miller from the novel by Joe David Brown, Kings Go Forth stars Frank Sinatra and Tony Curtis as, respectively, a tough army lieutenant and a cocky radio operator. Serving in Southern France during World War II, Sinatra and Curtis vie for the affections of mademoiselle Natalie Wood. Upon learning that Wood's father was black, both men succumb to their inbred prejudices. Sinatra manages to overcome his latent bigotry, but Curtis does not. In fact, he's so vocal in his race hatred that audiences are virtually cheering for his inevitable demise. After the war, Sinatra, who has lost an arm in combat, relocates Wood. The film ends ambiguously, possibly because miscegenation was still a touchy topic amongst Hollywood censors. Kings Go Forth was universally popular - except, perhaps, with those ex-GIs who were still resentful that Frank Sinatra had in real life been spared wartime service due to a questionable physical ailment.
Critic Reviews for Kings Go Forth
All Critics (2) | Fresh (1) | Rotten (1)
The wartime material is fairly standard (if well-executed), but the simmering theme of racism is honestly handled, and Sinatra is excellent.

Unconvincing World War II tale that mixes war and a soap opera war romance.

Ozus' World Movie Reviews
Audience Reviews for Kings Go Forth
½
Slow paced romance triangle set during World War II. 30 minutes of this one told me I could go to sleep missing it. Sinatra, Curtis and Wood co-starred in this rather boring black and white non-event. Despite the cast, it was lost on me why this movie was made. Great title however, unlike today's offerings. "It comes from Hollywood's era of grown-up "topic" movies, but Kings Go Forth has not left much of a trail. Two GIs, stationed near the French Riviera toward the end of World War II, compete for the love of a local girl (Natalie Wood). Her secret: Her father was black. The guys are Frank Sinatra, in his lost and lonely key, and Tony Curtis, as a spoiled kid breezing by on his looks (this was the same year Curtis did The Defiant Ones, also on race). Director Delmer Daves was very good at this kind of melancholy melodrama (see also A Summer Place), but this movie's non-reputation is easy to understand; it's mild and sentimental at its core. The only character that doesn't seem to be Representing Something is Sinatra's tender portrait of a soldier at loose ends, a far cry from his nervy Maggio in From Here to Eternity." --Robert Horton NOTES: 1 Of his role in Kings Go Forth, Tony Curtis said that it was the "most difficult" of his career, while Sinatra said that he "took the part as a performer, not a lecturer on racial problems." 2 The Music was written by Elmer Bernstein. It includes Frank Sinatra's song Monique, with lyrics by Sammy Cahn. 3 At the US box office, Kings Go Forth was a moderate hit that was received without great adulation from critics, but hardly lambasted. Cast Frank Sinatra as 1st Lt. Sam Loggins Tony Curtis as Cpl. Britt Harris Natalie Wood as Monique Blair Leora Dana as Mrs. Blair Karl Swenson as The Colonel Ann Codee as Mme. Brieux Eddie Ryder as Cpl. Lindsay (as Edward Ryder) Jacques Berthe as Jean-François Dauvah, Boy Crew Composer: Elmer Bernstein Production Designer: Fernando Carrere Director: Delmer Daves* Cinematographer: Daniel L. Fapp Screenplay: Merle Miller Costume Designer: Leah Rhodes Producer: Frank Ross Associate Producer: Richard Ross * Films directed by Delmer Daves 1940s Destination Tokyo (1943) · The Very Thought of You (1944) · Hollywood Canteen (1944) · Pride of the Marines (1945) · The Red House (1947) · Dark Passage (1947) · To the Victor (1948) · A Kiss in the Dark (1949) · Task Force (1949) 1950s Broken Arrow (1950) · Bird of Paradise (1951) · Return of the Texan (1952) · Treasure of the Golden Condor (1953) · Never Let Me Go (1953) · Demetrius and the Gladiators (1954) · Drum Beat (1954) · Jubal (1956) · The Last Wagon (1956) · 3:10 to Yuma (1957) · Cowboy (1958) · Kings Go Forth (1958) · The Badlanders (1958) · The Hanging Tree (1959) · A Summer Place (1959) 1960s Parrish (1961) · Susan Slade (1961) · Rome Adventure (1962) · Spencer's Mountain (1963) · Youngblood Hawke (1964) · The Battle of the Villa Fiorita (1965)
monsieur rick
Great Dramatic love story set in World War II France. Another film where the nice guy doen't get the girl ;( But great film
Vince - A.K.A Peilo Peilo
Kings Go Forth Quotes
There are no approved quotes yet for this movie.
Discussion Forum
Discuss Kings Go Forth on our Movie forum!