Asalto a Beverly Hills
(1991)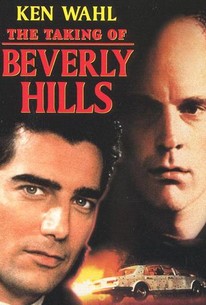 AUDIENCE SCORE
Critic Consensus: No consensus yet.
Movie Info
Football hero Boomer Hayes (Ken Wahl) finds he is in the middle of a looting scheme in this non-stop actioner. Billionaire and owner of LA's pro football team, Bat Masterson (Robert Davi), has arranged a fake toxic chemical spill to provide an opportune situation for his group of ex-cops to plunder an evacuated community in Beverly Hills. Surprised by the state of things when he comes out of the bathroom, Boomer soon grasps the opponent's play and takes it upon his able-bodied self to tackle the situation. Luckily, he not only has the support of his girlfriend, Laura (Harley Jane Kozak), but ex-cop and bad-turned-to-good guy Ed (Matt Frewer) also decides to play on the home-team. With a plethora of explosions and stunts, it shows how the heroes semi-effectively defend their lush neighborhood.
Critic Reviews for Asalto a Beverly Hills
There are no critic reviews yet for Asalto a Beverly Hills. Keep checking Rotten Tomatoes for updates!
Audience Reviews for Asalto a Beverly Hills
The only thing I expected out of this movie was a 1980's style action flick that would just be something to pass the time away.I also never expected to like or even enjoy it but I did.I loved the action, The bits of comedy here & there & as usual, Matt Frewer is always funny.After watching Short Time I'll watch about any movie he's in.You should take a chance on The Taking Of Beverly Hills.Either you'll (Hopefully) enjoy it as much as I did or it'll just be something to watch
Brody Manson
Super Reviewer
½
"The Taking of Beverly Hills" is a curious movie that fails on a lot of different levels, most notably failing to be an entertaining B-movie. It's too silly, forgettable and bland to even be successful at that. Where does this film go wrong? Let's start with the most obvious mistake: the casting of Ken Wahl in the lead role. How far down in the action hero leading man barrel did the makers of this film have to scrape to come up with Wahl? He has no charisma, all of his one-liners fall with a thud and he's almost upstaged by his comic sidekick. And did I mention that his sidekick is played by Matt Frewer? It's almost like Wahl isn't here at all. He has a negative personality. And then there's the script that almost plays like a really bad episode of "The A Team". The blandness of the screenplay is best indicated by the forgettable, routine title. The weak, boring action scenes are "PG-13" at best, but the picture managed to secure an "R" rating in a vain attempt to get some much-needed street cred. The action mostly consists of a tank blowing up buildings, and the script is full of embarrassing football cliches to play off the fact that un-hero Wahl plays a famous football star. The movie takes far too long getting started and pads out the running time with a lot of unnecessary filler material in the beginning, and the bad guys are just as uninteresting as the rest of "The Taking of Beverly Hills". It's a dull and dim-witted movie.
Timothy Sanders
Asalto a Beverly Hills Quotes
There are no approved quotes yet for this movie.
Discussion Forum
Discuss Asalto a Beverly Hills on our Movie forum!