The Asphalt Jungle
(1950)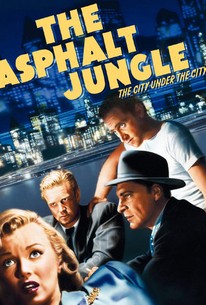 The Asphalt Jungle Photos
Movie Info
The Asphalt Jungle is a brilliantly conceived and executed anatomy of a crime -- or, as director John Huston and scripter Ben Maddow put it, "a left-handed form of human endeavor." Recently paroled master criminal Erwin "Doc" Riedenschneider (Sam Jaffe), with funding from crooked attorney Emmerich (Louis Calhern), gathers several crooks together in Cincinnati for a Big Caper. Among those involved are Dix (Sterling Hayden), an impoverished hood who sees the upcoming jewel heist as a means to finance his dream of owning a horse farm. Hunch-backed cafe owner (James Whitmore) is hired on to be the driver for the heist; professional safecracker Louis Ciavelli (Anthony Caruso) assembles the tools of his trade; and a bookie (Marc Lawrence) acts as Emmerich's go-between. The robbery is pulled off successfully, but an alert night watchman shoots Ciavelli. Corrupt cop (Barry Kelley), angry that his "patsy" (Lawrence) didn't let him in on the caper, beats the bookie into confessing and fingering the other criminals involved. From this point on, the meticulously planned crime falls apart with the inevitability of a Greek tragedy. Way down on the cast list is Marilyn Monroe in her star-making bit as Emmerich's sexy "niece"; whenever The Asphalt Jungle would be reissued, Monroe would figure prominently in the print ads as one of the stars. The Asphalt Jungle was based on a novel by the prolific W.R. Burnett, who also wrote Little Caesar and Saint Johnson (the fictionalized life story of Wyatt Earp).
Critic Reviews for The Asphalt Jungle
Audience Reviews for The Asphalt Jungle
I was expecting Dix to start talking about our precious bodily fluids at any moment. Like other noirs, it inspired far better movies, and this one gets a bit too preachy regarding the "greater good" of the police and what not. Ok flick, not Huston's best.
Tsubaki Sanjuro
Super Reviewer
John Huston's highly influential heist/noir The Asphalt Jungle resonates so profoundly because of the way its director invests each crew member with personality and motivation. A low-life hooligan with the heart of a farmboy (Sterling Hayden), a German career-con who's really a romantic with a penchant for senoritas, and safe-crackin new father, team up for a jewel caper. Of course crime doesn't pay, but when a film's lawless hoods are as human as these you sure as hell wish it did.
Bob O'Reilly
Super Reviewer
Huston's 1950 Noir about a jewel heist is an incredibly captivating film. Normally when I hear a film described as being about a heist, my mind immediately turns to the myriad examples of bad films centered around a them. For example: Entrapment, The Heist, The Score, Soul Plane However, much like he in the Treasure of the Sierra Madre, he creates fully realized characters that allow this film to soar high above it's heist film cohorts. The film centers around a million dollar jewel heist. Sam Jaffe plays Doc Erwin, a criminal mastermind who has been released from prison and is planning another big score. Through a local bookie, he pulls together a group of criminals to get the job done. While the above could summarize many different films, I assure you there is nothing like The Asphalt Jungle. The film utilizes the POV of the criminals to tell the story. Yet, unlike Reservoir Dogs which some people have equated this film with, this isn't just an hour and a half full of slick dialogue. While they may partake in criminal activities, Huston gives us the people behind the criminal actions. A fantastic Sterling Hayden desires to get money not so he can fund more criminal endeavors, he wants to buy back his families farm that he lost in the Great Depression. The safe cracker Louis wants to support his wife and his kids. Huston does an incredible job of letting the viewer empathize with these characters by letting us see their lives away from planning and executing the job. Huston shows the audience that crime isn't always driven by malice, crime is sometimes just a part of life. Louis Calhern sums this notion up best in the film when he states: "After all, crime is only... a left-handed form of human endeavor..." While Huston doesn't vilify the criminals, he doesn't deify the cops either. For the most part they are crooked and although they exclaim that they do not want to let the "beasts rule the jungle", they often stand shoulder to shoulder with the brutes. It is a simply marvelous & thought-provoking film. If Huston keeps this up he will keep moving up on my list of astounding directors.
The Asphalt Jungle Quotes
| | |
| --- | --- |
| Alonzo D. Emmerich: | after all crime is just the left handed form of human endeavor |
| Alonzo D. Emmerich: | After all crime is just the left handed form of human endeavor. |
| | |
| --- | --- |
| Doc Erwin Riedenschneider: | "One way or another, we all work for our vice." |
| Doc Erwin Riedenschneider: | One way or another, we all work for our vice. |