Assassin Next Door
(2010)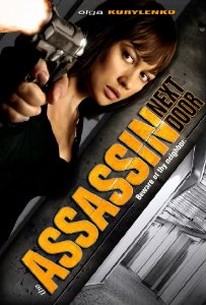 AUDIENCE SCORE
Critic Consensus: No consensus yet.
Movie Info
In an old apartment building on the wrong side of the tracks, two women, unknown to each other, live across the hall on the second floor. Galia is an assassin involved against her will with the local sex-traffic mafia. All she wants is to reunite with her little daughter that she left back home in Russia. Eleanor is a grocery store cashier and a battered wife. She dreams of winning the lottery and running away from her abusive husband. Galia and Eleanor don't know each other, but as neighbors they share two things: an adjoining wall and a strong need to plan their escape. As Galia disobeys her latest contract, a woman target, and Eleanor discovers that she's pregnant, the two women decide to take action against their oppressors in a fight for survival and freedom.
Critic Reviews for Assassin Next Door
There are no critic reviews yet for Assassin Next Door. Keep checking Rotten Tomatoes for updates!
Audience Reviews for Assassin Next Door
½
Galia (Olga Kerylenko) seriously has quite a few problems to tackle with...reuniting with her daughter and husband that she ran away from in search of their forgiveness. Getting out of the employment of her current employers that gives her few options of opting out unless she finishes the assignments that she is continuously being assigned for. Enter her consistently abused neighbor Eleanor (Ninette Tayeb) who finds out that she is expecting from her spousal abuser. Thinking that Eleanor will change her husband in his abusive ways just as Galia will get out of her employers grasp...the two of them make the attempt to embark on a journey to escape the clutches of their own personal demands...whether they succeed or not depends on what the clock can do for both of them or one of them. Truly an edge of your seat suspenseful movie as the climax holds you to the end of this film. Truly worth the effort in seeing this. Try it!
Fascade Fiveoneeight
Super Reviewer
A far more interesting movie keeps trying to blast its way out of this stodgy shot at La Femme Nikita. Israeli writer-director Danny Lerner hobbles aspirations with cheap digital imagery and melodrama, as broody Bond girl Olga Kurylenko is forced to professionally kill in Tel Aviv. Ponderous heart-to-hearts dominate as inexplicable import Galia (Kurylenko) befriends abused Elinor (Ninette Tayeb). When the action finally turns up, it's often in the icky form of guys hitting chicks.
Dean McKenna
Super Reviewer
½
I expected a rip off of La Femme Nikita, or to find just another b-movie, but I got something else. Something very good. Really good drama/thriller, with some great action and solid dialogue. A female assassin takes on the mob in this edge of your seat, engaging, action-packed, Israeli Crime/Adventure. Very well done..
Cynthia S.
Super Reviewer
Assassin Next Door Quotes
There are no approved quotes yet for this movie.