Assassination
(1987)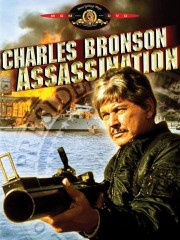 AUDIENCE SCORE
Critic Consensus: No consensus yet.
Assassination Trailers & Photos
Movie Info
Charles Bronson plays a Secret Service agent guarding the life of the First Lady (Jill Ireland). He has his work cut out for him as a series of assassination attempts shortly ensue, which appear to be originating from within the White House.
more
Watch it now
Cast
News & Interviews for Assassination
Critic Reviews for Assassination
There are no critic reviews yet for Assassination. Keep checking Rotten Tomatoes for updates!
Audience Reviews for Assassination
½
"Assassination" is Charles Bronson's ridiculous and silly attempt at a political thriller, but it's too preposterous to be taken seriously and only works in fits as a piece of entertainment. Bronson himself is slightly more charming than he has been in recent outings, but his family-friendly action flick has no footholds on reality.
It takes some pretty hard convincing on Bronson's part to get his superiors to believe the First Lady is in danger despite two fairly large explosions around her, and then he takes her on a road trip with himself as her only protection. And despite the claim that he is guarding the President's wife and not the man himself because of personal problems, you know the actor worked that in to secure yet another plum part for his wife, Jill Ireland. And her stubborn personality is supposed to supply the film with some much needed humor, but the fact that her reckless behavior constantly puts her in danger is just one more head-scratcher. It's meant to be a showcase for a strong-willed woman, but she just comes off as dumb.
I was much more interested in Bronson's relationship with Jan Gan Boyd playing his spirited sidekick. She's a fresh face, and it's a shame that Hollywood didn't welcome her more. The movie moves along at a quick pace and is fun to watch despite (or perhaps because of) the foolish plot. Check out the motorcycle and boat chases that features the worst stunt double I've seen in quite some time.
You can't take any of it seriously, but "Assassination" is a pretty fun ride most of the way. Judging it today, it's fun to see a First Lady who has no interest in shaping public policy and instead only wants to take a lot of vacations.
Timothy Sanders
½
Terror is a very expensive game

Jay Killon is a senior bodyguard that has been periodically assigned to guard the president during his illustrious career; however, when a new president is elected, and the first lady is a feisty spontaneous client, he finds his job more challenging than usual. Things are further complicated when it becomes apparent someone is trying to assassinate the first lady.

"Are you trying to nail the iceberg?"

Peter Hunt, director of Shout at the Devil, Wild Geese II, Death Hunt, and Eyes of a Whiteness, delivers Assassination. The storyline for this movie is fairly straightforward and interesting, primarily due to the concept of the first lady behaving in such a fashion. The action scenes are over the top but fairly good and the cast delivers their performances well. The cast includes Charles Bronson, Jill Ireland, Stephen Elliott, and Jan Gan Boyd.

"Charlie, why don't you move in with me permanently?
"I don't want to die from a terminal orgasm."

We have been on Charles Bronson run lately and this film grabbed our attention because it was directed by Peter Hunt. Hunt and Bronson worked together on Death Hunt, which we thoroughly enjoyed. This picture is not as good as Death Hunt but it is interesting. It felt a little like Commando mixed with The Bodyguard. This is worth watching if you're a fan of 80s feeling action pictures.

"Are those pants coming on or going off?"

Grade: C
Kevin Robbins
Discussion Forum
Discuss Assassination on our Movie forum!
News & Features