Astérix and Obélix: God Save Britannia
(2012)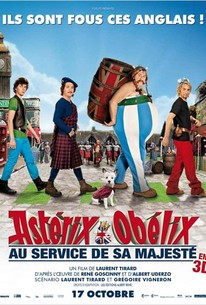 AUDIENCE SCORE
Critic Consensus: No consensus yet.
Astérix and Obélix: God Save Britannia Photos
Movie Info
Edouard Baer and Gerard Depardieu star as Asterix and Obelix respectively in this zany adventure pitting the comic book duo against the conquering Julius Caesar (Fabrice Luchini). Catherine Deneuve, Vincent Lacoste, and Guillaume Gallienne co-star.
Critic Reviews for Astérix and Obélix: God Save Britannia
There are no critic reviews yet for Astérix and Obélix: God Save Britannia. Keep checking Rotten Tomatoes for updates!
Audience Reviews for Astérix and Obélix: God Save Britannia
As a kid I used to fantasize about how awesome it would be if Asterix and Obelix, the unconquerable Gallic super duo, sprung out of the comic-books and magically came to life. The thought, naively enough, was exhilarating. A half-assed first screen adaptation and three imbecile sequels later, however, I now ruefully proclaim: be careful what you wish for. Founded upon the 1966 original comic by René Goscinny, the quest this time is set for the island of Britannia, in response to an emergency call from the British queen Cordelia, who stands at the threat of a Roman invasion. In parallel to this we are presumed to be engaged by the companions' love troubles, respectively bromance disputes. More taxing than actual fun. As customary to the series, thunder-punches and uppercuts are dealt left and right. Naturally, since they're visiting England, there's the obligatory mockery of the dry British reservedness. As if entertainment value where yet derivable thereof, all these umpteenth ridicules later. Aimed for a younger audience does in my view not excuse the plastic production design and a plethora of jumbly sidetracks. Furthermore, it's far too long with a running time of nearly two hours. But sure, if intelligence-bereft slapstick happens to be your cup of tea, then by all means slurp it up and enjoy. If you have kids of the middle school age they will likely be in for some scattered laughs. For us more choosy adults, however, this painfully drawn-out family farce (thereto the badly synced dubbing) becomes a precarious kidney stone to suffer. Or if Caesar himself could say it: I came, I saw, I breathed a sigh of extended apathy!
Astérix and Obélix: God Save Britannia Quotes
There are no approved quotes yet for this movie.