At the Circus
(1939)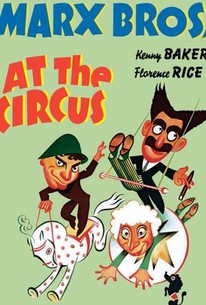 Movie Info
A distinct letdown from their previous MGM films, the Marx Bros.' At the Circus nonetheless contains intermittent moments of high hilarity. When Jeff Wilson (Kenny Baker) is in danger of losing his circus to crooked creditor Carter (James Burke), Jeff's faithful roustabout Antonio (Chico Marx) enlists the aid of seedy attorney J. Cheever Loophole (Groucho Marx). Despite the best efforts of Loophole, Antonio and general hanger-on Punchy (Harpo Marx), Jeff is robbed of the circus payroll by two flies in the ointment, Goliath the Strong Man (Nat Pendleton) and Little Professor Atom (Jerry Marenghi, later known as Jerry Maren). Also in on the plot to wrest control of the circus is aerialist Peerless Pauline (Eve Arden), with whom Loophole has a cozy tete-a-tete while walking on the ceiling (no kidding!) In a last-ditch effort to raise the necessary funds, Loophole romances Jeff's wealthy aunt Mrs. Dukesbury (Margaret Dumont). The finale takes place at a fancy society party at the Dukesbury mansion, with Punchy and Antonio hijacking the scheduled entertainment and replacing it with a full-fledged circus performance. Weighed down by an excess of plot and a surfeit of misfire gags, not to mention one of sappiest romantic subplots in film history (involving sappy tenor Kenny Baker and sappier ingenue Florence Rice), At the Circus still keeps audiences happy with Groucho's rendition of the deathless "Lydia the Tatooed Lady" (by Harold Arlen and E. Y. Harburg) and the zany denoument, wherein pompous conductor Fritz Feld and his orchestra are set adrift in the middle of the ocean and the magnificent Margaret Dumont is shot out of a cannon. Best gag: When Eve Arden stuffs the circus payroll into her blouse, Groucho turns to the camera and whispers "There must be some way of getting that money back without offending the Hays Office."
Critic Reviews for At the Circus
Audience Reviews for At the Circus
This isn't one of my favourite Marx Brothers movies. First of all, I didn't like that really long song with Harpo and the Black kids. Second, the circus seems like the natural habitat for the Marx Brothers, so they don't stand out as much. It is funny most of the time, but I didn't like the story.
Not my favorite Marx Bros. film. It has some funny bits in it, but it's hampered by exposition...and the magic just doesn't seem to be there.
Tim Salmons
Super Reviewer
Back to MGM, but with Mervyn LeRoy producing. Kenny Baker, no not the Kenny Baker from Star Wars, another Kenny Baker who was in musicals in the 30's and 40's, is Jeff who wants to pay off Carter so he can have sole ownership of this circus. He has the money ready to pay. His romantic interest is Rice as Julie. They have what looks like a very old fashioned relationship with the man in his place and the woman in her place. The songs they share are hokey and not very engaging. Chico assists Jeff and Harpo is a clown in the strong man act. This is probably the source of some of the inspiration for La Strada. Carter for some unknown reason wants to ruin the circus, but somehow keep it for himself too. He has Arden as Peerless Pauline, Pendleton as Goliath, a midget, and a handful of other thugs do his dirty work. Jeff's money is stolen and Chico sends for Groucho as Attorney Loophole. The Marx Brothers play at detective work till finally Groucho goes to Dumont again to find another way to get the money to save the circus. This is one of the more disjointed plots. Chico plays another number on the piano. Groucho gets to sing a full song this time, the naughty and frolicking Lydia, The Tattoed Lady. I was not aware of this song, yet this whole fourth season of Heroes involving the carnival has made use of this character that Groucho describes. Harpo is putting lions to sleep when out of nowhere a huge crowd of African American children and adults show up to dance and sing a jazz/swing number with him like in A Day at the Races. The song is called Swingali by Harburg and Arlen who did the music for The Wizard of Oz the same year, but it sounds like a medley with a major piece of Blue Moon and other tunes. It is upbeat and adds some energy to the movie though it is badly synched. The only thing that saves the musical break is Harpo's consistently amazing strumming on the harp. There are still a few good one liners and physical gags, but they are not as well timed for the most part. When Groucho is snooping around Peerless Pauline's tent, she slips the stolen money down the front of her sequined leotard in her cleavage and he has one of the best lines about trying to get it without upsetting the Hays Office.
Byron Brubaker
Super Reviewer
At the Circus Quotes
| | |
| --- | --- |
| J. Cheever Loophole: | That night I drank champagne from your slipper. Two quarts. It would have held more but you were wearing inner soles. |
| | |
| --- | --- |
| J. Cheever Loophole: | I don't know what I'm doing here wehn I could be at home in bed with a hot toddy. That's a drink. (not wanting toddy to be confused with actress Thelma Todd) |
| J. Cheever Loophole: | I don't know what I'm doing here wehn I could be at home in bed with a hot toddy. That's a drink. [not wanting toddy to be confused with actress Thelma Todd] |
Discussion Forum
Discuss At the Circus on our Movie forum!