Atlantic Rim
(2013)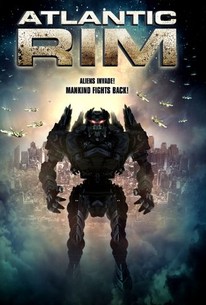 AUDIENCE SCORE
Critic Consensus: No consensus yet.
Atlantic Rim Photos
Movie Info
Intelligent robots help the American army battle giant monsters from the ocean. ~ Perry Seibert, Rovi
Rating:
NR
Genre:
,
Directed By:
Written By:
Runtime:
Studio:
The Asylum
Watch it now
Critic Reviews for Atlantic Rim
All Critics (2) | Fresh (1) | Rotten (1)
It warrants a bonafide viewing from folks looking for a quick palette cleanser before the buffet that is "Pacific Rim."

Audience Reviews for Atlantic Rim
½
Very bad movie. The most boring soundtrack, coupled with horrible acting, a plot that makes no sense, and an ending that invalidates the previous struggles, this movie is only watchable for those who find pleasure in witnessing just how bad a movie can be. If the robots can lift the dinosaur and carry the dinosaur out of the atmosphere, why not just drop the dinosaur and let it burn up on re-entering the atmosphere or just wait until the vacuum of space kills it? Nope, lets detonate a nuke in orbit. They could have just lifted the monsters up to a thousand feet and jist dropped it and the thing would have been splattered. The main actors seemed totally detached from reality. And it seems no military knowledge was obtained... even the salutes were horribly mockingly bad. Transformers at least made a good effort at portraying the military properly. Obviously an inferior director for this flick. Glad I did not pay for it.
Xsaris Guzman
Terrible screenplay and acting defeat moderately good sound and camera work. The film opens to a spill on an oil rig. Three untested giant robots are sent to find it. Drunken incompetence results in a lot of collateral damage before an early success over one of the monsters. The 'hero' gets both lionized and jailed. Nice. After the first incident, another monster emerges. The robot pilot who was so dedicated to assisting the cleanup is shown playing checkers with his fellow pilot. The second monster is bombed by one of our stealth aircraft; no one seems to notice that the monster slithers away alive and unharmed. Gratuitous jiggling and drinking. Florida does not really resemble Manhatten Island that much. Worst piece of all: the use of giant melee weapons by the giant robots where much more powerful ordinance failed before. Cinematography: 8/10 Sound: 8/10 OK. Acting: 0/10 Uniformly bad. This was undoubtedly the worst performance by Grahame Green that I've ever seen. There's a big disconnect between what the actors say and what's supposed to be going on, such as, 'maybe we hit a wreck' -- when the speaker is on a stationary oil rig. Screenplay: 0/10 Mardi gras in Florida. Interesting, unexpected. 'The pressure is increasing exponentially.' Exponentially is not what it used to be; the issue vanishes two seconds later with no explanation. Which character(s) am I supposed to care about? Unknown. Which plot thread is supposed to be engaging? None of them are. Generally incompetent dialog. Needless romantic triangle that was barely explored. Special Effects: 7/10 Varies between competent (dinosaurs) and amateurish (fake explosions, loss of the aircraft carrier Wasp).
Ed Collins
½
Nowhere as good as Pacific Rim, though it might carry a few laughs at just how bad it gets. The story is slow, bland, and thin. The acting stinks, and the characters are awful. The CGI is somewhat decent for a movie of this sort, though some of the fights are pretty lack luster. All in all, it's pretty much what you would expect it to be. An Asylum mockbuster.
Wes Shad
Discussion Forum
Discuss Atlantic Rim on our Movie forum!
News & Features