Attack of the Virgin Mummies
(2003)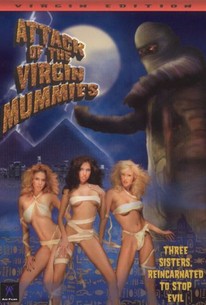 AUDIENCE SCORE
Critic Consensus: No consensus yet.
Movie Info
Many years ago, the three virgin daughters of an Egyptian king were brutally murdered by a maniac. Now, in present day, the maniac is back with an equal thirst for death and destruction. Fortunately, the three daughters whom he killed so many years ago have also been reincarnated, and they alone possess the power to stop him.
Rating:
NR
Genre:
, ,
On DVD:
Critic Reviews for Attack of the Virgin Mummies
There are no critic reviews yet for Attack of the Virgin Mummies. Keep checking Rotten Tomatoes for updates!
Audience Reviews for Attack of the Virgin Mummies
Attack of the Virgin Mummies (Daryl Carstensen and Andrew Schrom, 2004) I had somehow gotten it into my head that Attack of the Virgin Mummies was a Misty Mundae movie, and I will sit through the worst schlock imaginable for a glimpse of the glorious Ms. Mundae. In this case, however, I was cruelly duped (and I will never speak to that associate again). It is a Misty-LIKE film, to be sure, in that it features a great deal of gratuitous nudity and a plot that stretches the bounds of the term ludicrous, but think on this: it took two directors to make a movie this utterly incompetent. Writer-director Carstensen, a former animation checker who worked on movies as diverse as The Iron Giant and Bakshi's The Lord of the Rings, and his partner in crime Schrom (no other credits, and that's a GOOD thing) give us the story of three Egyptian princesses (Crustacean's Hanna Harper and hardcore vixens Violet Blue and Nikki Love). First off, we get an extended scene that sets the stage. Three brothers come upon the girls bathing in the Nile (which looks a lot like the Snake River in northern Arizona...). Two of them (Ben and Arthur's Michael Haboush and Circle of Eight's David Reiner), natural-born charmers, are chatting up two of the lovelies, but their brother Turan (Peter Gullerud, whom Carstensen must have known from his animation days; Gullerud worked on animation and visual effects for Disney in the eighties and early nineties), who isn't too well-socialized, slips off with the third and ties her to a tree, and is about to have his way with her when they others find them. Turan is hauled back to face judgment, which of course comes with a curse (this IS ancient Egypt, after all). Fast-forward to the present day, and the sarcophagi of the three girls are hot items on the black market in America. A couple of inept delivery drivers (played by the directors) lose the crates out of the back of a truck, they break open, and, poof, three lovely young ladies appear. They're picked up alongside the road by a strip club owner and his pal (Reiner and Haboush), and you can see where this is going. But the reappearance of the ladies has reactivated Turan's curse, and he rises form the grave to stalk the girls. It's so bad. It's so, so, so bad. I'm not sure I even have words to describe how bad it is. It's like trying to make a horror comedy using porn actresses. Oh, wait, that's exactly what it is. See? I can't even come up with any hyperbole that would make this sound even worse. It's THAT BAD. About the only things that could possibly recommend this movie are the copious nudity (as in, these ladies wear clothes for a total of, oh, five minutes...combined) and the laughably bad mummy effects. If either of these is enough to get you going, by all means, kill off as many brain cells as you want during the seventy-one minutes this movie runs. Everyone else...flee screaming in terror. Â 1/2
Robert Beveridge
Attack of the Virgin Mummies Quotes
There are no approved quotes yet for this movie.