Juyuso seubgyuksageun (Attack the Gas Station)
(2001)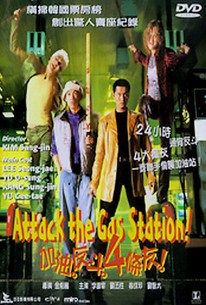 AUDIENCE SCORE
Critic Consensus: No consensus yet.
Juyuso seubgyuksageun (Attack the Gas Station) Photos
Movie Info
Kim Sang-jin directs this riotous send-up of Korea's rigidly hierarchical society. A quartet of nihilistic losers including an alienated athlete, a longhaired burnout, a spaced-out artist, and a muscle-bound meathead take to knocking over 24-hour gas stations. Their initial success eventually leads to trouble when they decide to hold up the same gas station again "just for fun." Unfortunately, the store manager had his wife take much of the day's earnings home with her just prior to the robbery. Stumped as what to do next, the four take the staff hostage and start to taunt the middle-aged manager (his underlings soon join in). They ridicule potential customers and order Chinese food until the film's delirious final showdown between the four protagonists, the cops, a local clan of gangsters, and irate delivery boys. ~ Jonathan Crow, Rovi
Audience Reviews for Juyuso seubgyuksageun (Attack the Gas Station)
½
Silly absurdist fun & I like silly absurdist fun, the first half is somehow monotonous & irritating but after that it gets better, One thing that I liked about this was that it hadn't a forced morale or stupid sentimental cliches althought it was getting close to have some near the end
Simple but fun comedy, very much teen-oriented, and still more funny, and less idiotic, than your average teen comedy from Hollywood (and plenty from asia too) Thanks in a big part to a well selected cast of actual young actors that do a solid job. Good to see that the film doesn't force any "learn a lesson" morale over the characters or any other cliche bullshit.
Tsubaki Sanjuro
Super Reviewer
Four anarchistic youths take control of a gas station and hold the owner and its' employees hostage until the gang makes enough money from unsuspecting customers. Sound ridiculous? How about when another gang shows up and are taken hostage? Then begins the grand finale: a standoff between a Yakuza gang, a group of young punks and a load of motorcycling pizza delivery boys and finally, the law. The point is, this is a fun film. Nice rounded characters in a simple plot filmed in a kinetic style that most viewers might find themselves carried by its' momentum.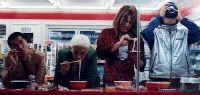 El Hombre Invisible
Super Reviewer
Juyuso seubgyuksageun (Attack the Gas Station) Quotes
There are no approved quotes yet for this movie.
Discussion Forum
Discuss Juyuso seubgyuksageun (Attack the Gas Station) on our Movie forum!