Attack of the 60 Foot Centerfold
(1995)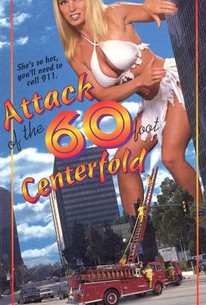 AUDIENCE SCORE
Critic Consensus: No consensus yet.
Movie Info
When a finalist for "Centerfold of the Year" downs an experimental beauty-enhancing potion concocted by mad-scientist Dr. Lindholm, the unforseen side effects render her a shaply 60 feet tall. Jealous over all the attention, a rival guzzles the elixir, and soon the gargantuan beauties are battling it out and trashing much of Hollywood Boulvard in the process.
Rating:
R
Genre:
,
Directed By:
Written By:
On DVD:
Runtime:
Studio:
Concorde Pictures
Critic Reviews for Attack of the 60 Foot Centerfold
There are no critic reviews yet for Attack of the 60 Foot Centerfold. Keep checking Rotten Tomatoes for updates!
Audience Reviews for Attack of the 60 Foot Centerfold
½
A Fred Olen Ray "masterpiece" - two giant models destroy Los Angeles. Some funny cameos give the film a little bit of much-needed life.
Michael Troudt
I got three movies for you. [img]http://images.rottentomatoes.com/images/movie/coverv/17/214017.jpg[/img] [b]Legally Blonde 2: Red, White and Blonde[/b] This was obviously the biggest budget movie of the three movies. And yet....It wasn't the best of them. I'm sitting here trying to think of something nice to say about the movie. I'm trying really hard. This movie made me laugh, though not because of any particularly funny jokes. Mostly I was laughing because it was sooo damn stupid. This brings a whole new meaning to the term "Dumb Blonde". All I gotta say is lets here it for the 'Snaps Cup'. Now I know I was right in avoiding actually renting this flick from the rental store. It would have been far to embarassing to walk up to the clerk with this video case and actually say...yes I would like to rent this movie please. Yikes! [img]http://images.rottentomatoes.com/images/movie/coverv/75/200975.jpg[/img] [b]Double Whammy[/b] Of the three movies this was the mid grade quality movie. Not quite good enough to hit the theaters. Surely this was someones pet project that they just wanted to get done. This one had some great characters to fill in the story. A down on his luck cop, with a bad back attempts to stop a man going postal at a burger joint...Only to have his back go out, fall hit his head and get knocked out. A ten year old picks up his gun and gets the job done in his stead. Now the laughing stock of the force, he's forced to medical treatment. There he meets the hot chick doctor who fixes his back and gives a nice 'happy ending'. Back home his apartment super is plotted against by his own daughter, who is trying to kill him. The best parts were from two 'writers' living in the apartment building, trying to write a script for a movie. A white and a black man. Wearing Zuit suits, the white man acts and talks black while the black man acts and talks white. If you like Donald Faison of scrubs, Elizabeth Hurley the babe, or Steve [color=white]Buscemi who always plays interesting bit parts. You get about what you expect with this movie. A low grade comedy that trys but just doesn't make it. As my wife put it tonight when we were done. It wouldn't have been a bad little movie to keep if not for the whole daughter paying to have her father killed thing. Oooh there was Hurley nippliage![/color] [img]http://images.rottentomatoes.com/images/movie/coverv/72/180772.jpg[/img] [b]Attack of the 60 Foot Centerfold[/b] This brings us to the last of our movies for the evening. To say this was a B movie isn't fair to the other B movies. This was more like a C or even D movie. The acting was horrible, the script was horrible. The obvious exposure of nipples and breasts every chance they could for every reason was not so horrible for the eyes but still horribly done. These are the kinds of things you get on premium movie channels late at night....Someone needs a refund! This is honestly one of those few movies that I will give an absolute 0 to. It's bad bad bad and I honestly think that I could write, film and produce a better movie with my home camcorder. in fact if my wife will run around in bikini's, thongs and a bare chest on the beach and against a green screen for a bit....I just might try it!
Rand Swope
Attack of the 60 Foot Centerfold Quotes
There are no approved quotes yet for this movie.
Discussion Forum
Discuss Attack of the 60 Foot Centerfold on our Movie forum!