Attack the Gas Station 2 (Juyuso seubgyuksageun 2)
(2010)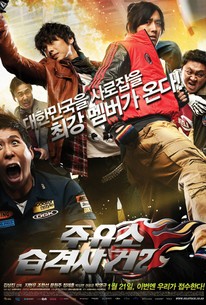 AUDIENCE SCORE
Critic Consensus: No consensus yet.
Attack the Gas Station 2 (Juyuso seubgyuksageun 2) Photos
Movie Info
10 years have passed since Mr. Park had his gas station robbed. Since then, neighborhood thugs and biker gangs have continued to rob him. Mr. Park decides that he has had enough and declares war.
Critic Reviews for Attack the Gas Station 2 (Juyuso seubgyuksageun 2)
There are no critic reviews yet for Attack the Gas Station 2 (Juyuso seubgyuksageun 2). Keep checking Rotten Tomatoes for updates!
Audience Reviews for Attack the Gas Station 2 (Juyuso seubgyuksageun 2)
½
I think it sucks when Netflix does this. It only puts the sequel and not the original on its instant streaming service. Perhaps this is a different company owning the rights to the original movie, but I think they should pony up and seek it out because it feels kind of silly. I don't think it matters much, for example, in horror movies like the Freddy or Jason movies, movies that don't really have a continuous storyline through each movie, just the same villain. But at least this movie still manages to stand on its own without really needing to see the original. The problem is, after having seen this film which was actually average but still fun, I REALLY want to see the original which is much better than this one, apparently. There's really not that much of a problem with the film itself really, but I don't think it ever manages to be good. The atmosphere is definitely fun and movie doesn't take itself seriously, and I mean how could it with some of its flashbacks. The cast definitely seemed to have a lot of fun so that, as always, at least in my opinion, helps a movie. One of the main problem is that there's really no point to what is happening, I mean all it is that 10 years has passed since the original attack and Mr. Park thinks its time to get his revenge and hires 4 dudes to take care of the bicycle. That's, literally, all there is. The rest of the film happens for no reason other than it's wacky and that's what this movie is about. It's not that I really mind because there are certain films where story is really not that important and it's still fun, which this movie kinda was. But if you're looking for an interesting story to go along with wackiness then you've got the wrong movie on your hands. And this is probably not even related to not having watched the original film, as I said, the movie is perfectly watchable without you having to see the first movie. I could watch the first movie and this still wouldn't have a strong story. Anyway enough about that, while this movie is perfectly fine way to spend a couple of hours, as in you could do much worse but also much better, all this movie really does is want to make me watch the original. And I can see it being the same for others like me.
Jesse Ortega
Super Reviewer
Attack the Gas Station 2 (Juyuso seubgyuksageun 2) Quotes
There are no approved quotes yet for this movie.