August: Osage County
(2013)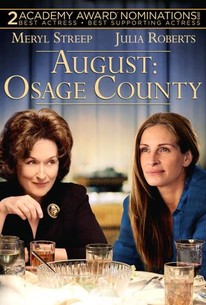 TOMATOMETER
AUDIENCE SCORE
Critic Consensus: The sheer amount of acting going on in August: Osage County threatens to overwhelm, but when the actors involved are as talented as Meryl Streep and Julia Roberts, it's difficult to complain.
August: Osage County Videos
August: Osage County Photos
Movie Info
AUGUST: OSAGE COUNTY tells the dark, hilarious and deeply touching story of the strong-willed women of the Weston family, whose lives have diverged until a family crisis brings them back to the Midwest house they grew up in, and to the dysfunctional woman who raised them. Letts' play made its Broadway debut in December 2007 after premiering at Chicago's legendary Steppenwolf Theatre earlier that year. It continued with a successful international run. (c) Weinstein
News & Interviews for August: Osage County
Critic Reviews for August: Osage County
Audience Reviews for August: Osage County
½
It's all fine until the deep dark secrets (so to speak) begin to come out. If only they were convincing enough. The tragedies keep on mounting, but it's hardly effective as I couldn't care enough for any of the characters. May have been better if they'd cared to execute the plot in a way that the twists and shocks felt genuine. Yet, for what it is, a single viewing shouldn't be fatal. In fact, I found it to be a relatively better means of time pass (apparently, for that once). 2.25 out of 5.
familiar stranger
Super Reviewer
A quiet tragedy with a great cast. Why wasn't this one nominated for an Oscar? You must see this to see how good Meryl Streep is in it.
Lanning : )
Super Reviewer
This is probably one of the first times that I truly noticed what happens to a film when you have a director who truly can't keep up with his cast. "August: Osage County" has a cast that is to die for - and they don't disappoint. But when the film itself is directed in a generic, uninteresting, unfocused fashion, it sometimes leaves the actors with too much responsibility to shoulder to make the material work. "August: Osage County" is better when it sticks to its theater roots and stages scenes statically. An electric scene at the dinner table or intimate exchanges between sisters or mothers and daughters work better than the film's earlier expository scenes where the film attempts to take advantage of its cinematic scope and stage scenes in exteriors or in mobile locations. This gives the first half of the film a very messy feel and makes certain characters feel unrealized. This is especially true with Meryl Streep's characterization of matriarch Violet Weston. Her first scene is an actor's showcase - she's druggy, sickly and irrational. She chews the scenery with abandon leaving the restrained Sam Shepard and understated Misty Upham looking like lost spectators. Streep seems to be experimenting at the beginning of the film with what type of character she wants Violet to be. Is she crazy or is it really the drugs? Is she truly mean-spirited or just a victim of a cruel world? It's during that climactic dinner scene where Streep seems to get a firm hold on the character and for the rest of the film is magnificent and fully realized. But if there's a standout among this talented group, it is surprisingly Julia Roberts who is amazing as eldest daughter Barbara Weston. Roberts lands her zingers better than most of the other cast members and also has her best moments with her facial reactions to her family's actions. The rest of the cast is good as well, but the material doesn't give them much time to fully bring their characters full circle. Margo Martindale and Chris Cooper come closest but they are given more room to breathe, to introduce their characters and to make an impact. The rest of the cast arrives on scene, get dropped in the plot and are expected to make something stick. This is especially apparent with Benedict Cumberbatch who arrives as a crazy mess, yet you don't know if he is mentally unstable or, as the film seems to imply later, a victim of a verbally abusive mother. Overall, "August: Osage County" is a film is only half effective. A large, talented cast thrown together in a house, given a Pulitzer-Prize winning theater script and told to ACT. They do that. But the result is a story that doesn't feel fully realized until halfway through. And that is the true definition of a wasted opportunity.
Tony Gandía
Super Reviewer
August: Osage County Quotes
| | |
| --- | --- |
| Barbara Weston: | Holy shit that's Karen! You remember your Aunt Karen? |
| Jean Fordham: | Kinda. |
| Barbara Weston: | And that must be this year's man! |
| | |
| --- | --- |
| Bill Fordham: | You're so goddamn self-righteous, you know that? |
| Barbara Weston: | Surely you must have realized when you started porkin' Pippi Longstockin' that you were due for some self-righteousness, just a smudge of indignation on my part! |
| | |
| --- | --- |
| Bill Fordham: | You're thoughtful, Barbara, but you're not open. You're passionate, but you're hard. You're a good, decent, funny, wonderful woman, and I love you, but - YOU'RE A PAIN IN THE ASS! |
| | |
| --- | --- |
| Barbara Weston: | Eat |
| Violet Weston: | I'm not hungry! |
Discussion Forum
Discuss August: Osage County on our Movie forum!