Auntie Lee's Meat Pies
(1992)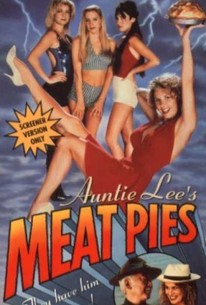 AUDIENCE SCORE
Critic Consensus: No consensus yet.
Movie Info
Remember when Karen Black used to be in A-list pictures like Nashville and The Great Gatsby? If you're a diehard Black fan, keep those earlier triumphs in mind while watching Auntie Lee's Meat Pies. Borrowing elements from Sweeney Todd and Motel Hell, the film casts Black as a resourceful baking entrepreneur. Just what gives her meat pies that special flavor? With the help of a quartet of former Playboy Playmates, our heroine "collects" handsome young men to feed into the grinder. If the star, title and premise doesn't whet your appetite, consider that Auntie Lee's Meat Pies also stars two comedy icons of yesteryear: Pat Paulsen and Huntz Hall!
Rating:
R
Genre:
,
Directed By:
Written By:
On DVD:
Runtime:
Cast
Critic Reviews for Auntie Lee's Meat Pies
All Critics (1) | Fresh (0) | Rotten (1)

Chicago Reader
Top Critic

Audience Reviews for Auntie Lee's Meat Pies
Embarrassed to say I've actually seen this.A Successful Baker(Karen Black) makes her fortune off Meat Pies that the Secret Ingredient is ground up Handsome Men.Has Moments where it brings the funny, but YUKKKKKK .Makes me glad I'm a Vegetarian
Marilee Aschwanden
Auntie Lee's Meat Pies is the comical "horror" movie about Auntie Lee (the lovable cult horror icon Karen Black) and her five sexy, seductive nieces (comprised of Playboy models and pornstar Teri Wiegel, all of whom are not shown in the highly inaccurate movie poster) who pick up out of town men, kill them in gory, violent ways, and cook them up in Auntie Lee's town favorite Meat Pies. This film is writer/director Joseph F. Robertson's only venture outside of doing porn, and it shows. While the acting and filmmaking screams low-budget porn, unfortunately (and sadly), the titties are scarce (we see a couple 72 minutes in and that's about it). Also, at 100 minutes, this film is WAY too long, especially given the material, which drags at times (how long does it take to kill a group of people?). All in all though, if you are looking for good bad horror, Auntie Lee's Meat Pies will do the trick. Aside from Black, we are also graced with the presence of the lovable, late Pat Morita (Karate Kid franchise) as the good ole boy town Sheriff whose clueless to the going-ons of Auntie Lee and her nieces, as well as another cult horror icon Michael Berryman (the original Hills Have Eyes films, The Guyver, etc) as the retarded help around the Auntie Lee estate. The cast is fun to watch and the gore is plentiful, but the fill could have stood to have 15-20 minutes chopped off, and for crying out loud, all of those titties and they were covered up 95% of the film??? Unacceptable. Either way, the film still manages to scrap by in being entertaining, especially with all of its bizarre and over-the-top moments (the opening with the murdering drifter, the themed bedrooms, etc).
Jason Duron
Discussion Forum
Discuss Auntie Lee's Meat Pies on our Movie forum!
News & Features