Auschwitz
(2011)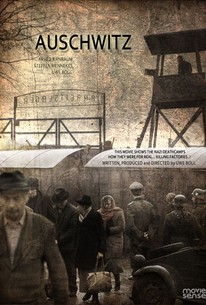 AUDIENCE SCORE
Critic Consensus: No consensus yet.
Movie Info
Controversial director Uwe Boll depicts the harsh reality of the process inside one of the most infamous Nazi death camps by using brutally realistic imagery.
Critic Reviews for Auschwitz
All Critics (1) | Fresh (1) | Rotten (0)
anyone drawn to this film in the hope of deliriously tasteless schlock is bound to be disappointed, for Auschwitz is an unexpectedly serious, sober and sensitive history lesson from Boll.
Audience Reviews for Auschwitz
Auschwitz is an awful docudrama that tries to recount the atrocities of the Nazis during the Second World War. The film might have been a good documentary, but the level of inaccuracies presented here is far too many to mention. We are given a film that is a poorly thought out, poorly researched documentary on what happened in Auschwitz. The level of inaccuracy here is insulting to the victims and survivors because I feel that if you are to tackle a subject about something as tragic as the Holocaust, you ought to do it right. This is a poorly made effort, with no sense of trying to capture the real events on film, and the methods recreated on film, are not accurate and questionable. This should have been far better, and it's a shame that the film had this level of inaccurate content within the film in order to recreate what happened. However, Auschwitz is a pointless, awful film that doesn't do the subject justice. The most stunning work on the Holocaust is Claude Lanzmann nine hour documentary Shoah, which is the finest work on the subject. That film goes in depth about the crimes committed by the Nazis and it's told in a brilliant, subtle way that it stays with you long after you've seen it. But this film on the other is a film to avoid and it not worth seeing because you'll never get the full story of the Holocaust out of such a thinly layered movie. This film doesn't go in depth, and you are left wanting to know a lot more on the Holocaust. Give Shoah a viewing instead, you'll be glad you did.
Auschwitz Quotes
There are no approved quotes yet for this movie.
Discussion Forum
Discuss Auschwitz on our Movie forum!