Automatons
(2006)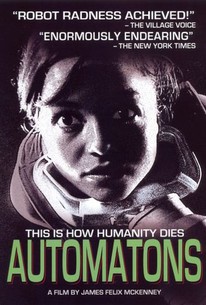 Movie Info
Machines fight for control of a world destroyed by man in this ultra-low-budget sci-fi saga from filmmaker James Felix McKenney. A global war has left the surface of the Earth uninhabitable, and the few humans who have lived through the conflict have been driven underground in order to survive. The Girl (Christine Spencer) lives in a subterranean bunker that she shares with several rattletrap robots of her own design. The Girl occupies herself by watching old videotapes of a scientist who was her friend and mentor before the apocalypse, but lately she has other things on her mind. Another survivor (Brenda Cooney) has established a robot army, and is using the machines to lay claim to the remains of the Earth. As the Girl constructs her own mechanical security force, she discovers the Enemy Leader has a dangerous surprise in his arsenal -- the ability to turn the Girl's robot friends against her. The ranting scientist in Automatons is played by Angus Scrimm, best known to horror film buffs as "the Tall Man" from the Phantasm franchise.
News & Interviews for Automatons
Critic Reviews for Automatons
Audience Reviews for Automatons
this now in my top 3 weird bizzarre yet wonderful right behind liquid sky & eraserhead. its a little slow at first but hang in there its worth it.
Gregory Wood
½
Automatons takes place in a post-apocalyptic world where a long human survivor lives her life in a bunker, working on her small army of robots while listening/watching the tapes left by her creator (the great Angus Scrimm, in a cool role) where he dictates the events of the robotic apocalypse. Meanwhile, an enemy bunker continually tries to corrupt her systems and turn her robots against her. As the film goes on, the lone girl works to try and fix the robots in hopes of taking down the other bunker soon, which unfolds in a eventful (and surprisingly gory) climax that was a 180 degree turn from how the rest of the movie was playing out. Keep in mind, movie watchers, Automatons is painfully different from other films. It's a EXTREMELY low budget, independent film that tries to interpret those old classic Killer Robot films of the 50's and 60's, while adding a nice mixture of modernized filmmaking using progressive story-telling and inventive action. Most will not see this and will be ignorantly repelled by the film, which is a shame because it's so damn interesting. I would definitely recommend this film to fans of such interesting elements, as well as fans of writer/director Larry Fessenden (Wendigo, The Last Winter, founder of Glass Eye Pix, which put this movie out) who has a very brief role in the film. Great film from writer/director James Felix McKenney, whose only continued to churn out good films like the upcoming Satan Hates You and his already highly anticipated next film, Hypothermia). For what it's worth, a cool and interesting movie, but only to the more seasoned viewer who "gets" this sort of thing.
Jason Duron
½
The lone survivor of a devastated nation lives alone in a bunker, her only companions being the voice recordings of a long-dead scientist (Angus Scrimm) and the robots she sends out to do battle with the enemy on the unliveable, poisoned surface. In scratchy black and white with lots of theremin noises in the background and deliberately cheesy, clunky robots, it's a recreation of a 1950s sci-fi movie or serial; it evinces a real love for the style, but sadly but there's just not enough story to maintain interest even during its short run time.
Automatons Quotes
There are no approved quotes yet for this movie.
Discussion Forum
Discuss Automatons on our Movie forum!