Outrage
(2011)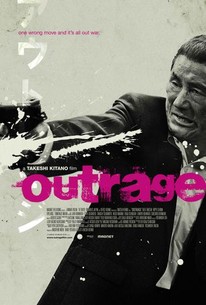 Movie Info
In a ruthless battle for power, several yakuza clans vie for the favor of their head family in the Japanese underworld. The rival bosses seek to rise through the ranks by scheming and making allegiances sworn over saké. Long-time yakuza Otomo has seen his kind go from elaborate body tattoos and severed fingertips to becoming important players on the stock market. Theirs is a never-ending struggle to end up on top, or at least survive, in a corrupt world where there are no heroes but constant betrayal and vengeance. -- (C) Magnet Releasing
News & Interviews for Outrage
Critic Reviews for Outrage
Audience Reviews for Outrage
Stylish, Gangster/Yakuza film that is rich in violence. Names can become confusing as there are so many, but it does a great job building tension. Beat Takeshi is a badass.
Evan Michael
½
It may be just me but gangster movies like this bore me. given its done well and the story is decent with good character development but it takes forever to get any kind of excitement going in this, and just when it starts the lull after just destroys any hope this had of getting going. I had pondered watching the sequel but I am just gonna pass.
Bill Regan
½
Definitely a solid yakuza movie overall, but one that's just a complete and utter mess structurally. The last 20 minutes, however dark and grim, certainly pick up the slack. I think the problem is that the movie probably tries to be too complex for its own good. I liked seeing the inner workings of this criminal enterprise but do you really need as many subplots and as many characters as this movie had. It made the movie feel about an hour longer than it really was. I liked the idea of these two families sort of duking it out for control but the movie is full of more betrayals than you can shake a stick at. If there had been fewer, it might have made more impact but they still served a purpose in that you can never trust anybody when it comes to being more successful at what they do. The movie is well put together, it has solid performances and plenty of action to negate, somewhat, a lot of these faults. It, however, doesn't help the major one...how its story is structured. I also heard there was going to be a sequel. If you watch the movie, this sounds like an absurd idea considering where MOST of the characters end up at, and it's not that hard to guess considering the 'job' they do. Anyway a solid, if messy, movie.
Jesse Ortega
Super Reviewer
Outrage Quotes
| | |
| --- | --- |
| Ôtomo (as Beat Takeshi): | Surrender? |
| | |
| --- | --- |
| Ôtomo (as Beat Takeshi): | I risked my life for your orders! Now you take my turf? |
Discussion Forum
Discuss Outrage on our Movie forum!