Autumn Ball (Sügisball)
(2009)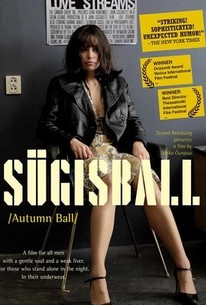 AUDIENCE SCORE
Critic Consensus: No consensus yet.
Autumn Ball (Sügisball) Photos
Movie Info
Autumn Ball is a new Estonian film that talks about six inhabitants of Soviet-era tower blocks whose lives touch together, and who are all united by a feeling of loneliness. The young writer, Mati, lurks outside the window of his ex-wife and unsuccessfully approaches other women. August Kask is a bachelor-barber living a drab life who takes to a little girl, but his approaches are misconstrued as pedophilia. The single mom, Laura, watches a sappy soap opera on TV and pushes away men's advances because she cannot trust them. Maurer, the architect, thinks about the wellbeing of humanity, but has forgotten his own wife, who, in turn, looks for solace in the coatroom attendant Theo. Women like Theo, but due to his low social status, they don't take him seriously.Autumn Ball tells a tale of human seclusion and the incapability to reach others. But you also find humor and the absurd, and the properly attuned viewer might even find oneself laughing out loud. If I were to define the film, I would say that Autumn Ball is a pitch black comedy about loneliness, despair and hope. --© Official Site
Critic Reviews for Autumn Ball (Sügisball)
Audience Reviews for Autumn Ball (Sügisball)
Good. A slice of Estonian life illustrating the fruits of socialism and its negative effect on the human psyche â" lost bemused people living in boxes trying to be happy (paraphrased by one of the characters). I like the political message included in the movie. It is a little bit poorly directed though and the dialogues are not the main thing here.
Bruno Lot
½
Odd romance-relationship film mostly, which juggles several relationships and people's plights in an untampered manner. You see people emotionally devastated and trying to combat depression with alcohol. Since it's so variated, it's interesting, and you're going to try to see at what small point the stories coincide. I think it's the first film I've seen where a guy walks up from what seemed to be unsimulated sex, and goes within the camera's viewing distance with a full-blown hard on, and then walks back in bed to copulate some more. Very little dialogue for a two-hour film, and the drama is believable, one because it's well written, two because the actors can act. It lacked a climax, and instead continued with its series of unrelated stories, one part violently criticizing romcoms, but overall it retains its message of isolation and incompleteness in human monogamies, emotional or romantic.
Richard Cranium
Autumn Ball (Sügisball) Quotes
There are no approved quotes yet for this movie.
Discussion Forum
Discuss Autumn Ball (Sügisball) on our Movie forum!