Autumn Hearts: A New Beginning
(2007)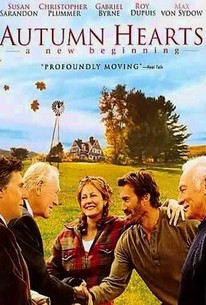 AUDIENCE SCORE
Critic Consensus: No consensus yet.
Autumn Hearts: A New Beginning Photos
Movie Info
An emotionally scarred fifty-something female, a high-profile but haunted British novelist, and a heroic dissident-cum-Soviet psychiatric hospital veteran who all formed an unbreakable bond while help prisoner in a World War II concentration camp reunite for the first time in forty years on the peaceful grounds of a renovated pastoral farm in Jefferson Lewis's adaptation of internationally acclaimed author Matt Cohen's popular novel. Paolo Barzman directs the Canadian production. ~ Jason Buchanan, Rovi
Rating:
PG-13
Genre:
Directed By:
In Theaters:
On DVD:
Runtime:
Studio:
Image Entertainment
Critic Reviews for Autumn Hearts: A New Beginning
There are no critic reviews yet for Autumn Hearts: A New Beginning. Keep checking Rotten Tomatoes for updates!
Audience Reviews for Autumn Hearts: A New Beginning
½
Autumn Hearts follows the struggle of 3-survivors from a concentration camp during WWII. The paticular camp they were in, being a stop on the route to, labor or death camps. The movie reunites the three after nearly 40 years and follows the struggles they still face today - because of the horrors of then. What I liked about this movie was the flash back scenes, but there were barley enough. The movie's tendency was seeming to want to tell the story of this almost "forgotton" work camp in WWII as well as the emotional struggles each character took with them, they do a great job at following the emotional struggles, but not so much what actually happend or why they have them. Overall: The plot is a good idea, but it's weak. The actors are semi-good. And the movie itself is interesting but not followed up. It was a great idea, but, it pretty much stopped at that. It's worth watching because of what it focuses on - it tells a forgotton story - but other then that - I can tell you a million ways it could have been better. View it once in memory of those who spent time in those awful camps and then look elsewhere for a better told story.
Bobby Hobbs
Super Reviewer
½
Very tender tale with a marvelous ensemble of actors. Susan Sarandon is perfect (as usual) in a very offbeat role for her. At times the film is over ambitious & feels somewhat "staged" & hard to swallow, but overall it's a great one-time see...
Michael Oberg
½
A fantastic cast with a lame script, a snoozer. Susan Sarandon, Christopher Plumkmer, Max Von Sydow, Gabriel Byrne and Roy Dupuis all, unfortunately, mope around from the very beginning of a film shot during the beautiful fall season colors in Canada. After some more snoozing we eventually find out that Melanie (Sarandon, the only female in this cast), has been obsessed with the fate of 6 million Jews since the time of her release from the Drancy internment camp out side of Paris that was used as a "way station" for Jews being transported to Auschwitz. The only thing keeping your attention in this film is trying to figure out what brings all these people together and when the title of the film "A New Beginning" is going to happen. I really am not sure it ever did. Among black and white flashbacks and imagined children playing in the barn, we have to find some way to tie this all together and why they all came together at this moment in time. It seems that Sarandon's character is the only one that even wants to remember what happened in the past while her husband and son feel unterly miserable and helpless, even stifled, as a family (hence, the reason behind their depressive moods). Only her son's son seems oblivious to it all yet soon he too falls victim to the guilt trip it seems that Sarandon wishes on everyone. Alas, her only escape is her childhood sweetheart who mysteriously shows up with the man who traded 2 paks of cigarettes to the Nazi guards in order to save her and her father from the gas chambers. They eventually give in to their love for each other based only on their shared memories as very young children from the French camp. But alas, at the end of the day, he leaves (this is not a spoiler as he announces this upon his arrival at the beginning of the film), and she seems to slip back into her own little world. Well, that is about all I got out of this. The script just seemed to be a lesson in hopelessness and was confirmed at the end when the camp "statistics" were revealed to us on screen. This is a story of people who lived through the holocaust but we don't really see a lot of how they made it through, only that they can't move beyond their grief. It is no wonder you would be hard-pressed to find a review on this movie anywhere. I give it 1 1/2 stars only because of the acting talent. Too bad they had to work with a horrible script.
David Arizona
Autumn Hearts: A New Beginning Quotes
There are no approved quotes yet for this movie.