A.V. (Qing chun meng gong chang)
(2005)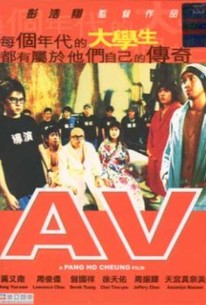 AUDIENCE SCORE
Critic Consensus: No consensus yet.
Critic Reviews for A.V. (Qing chun meng gong chang)
There are no critic reviews yet for A.V. (Qing chun meng gong chang). Keep checking Rotten Tomatoes for updates!
Audience Reviews for A.V. (Qing chun meng gong chang)
Something completely different... a teenager's movie from Hong Kong with a story about friends trying to meet girls on a very unique way - making a porn movie! Actually it is a fake porn film starring a Japanese AV girl (AV girl being equivalent to an American Porn star)... They managed to raise money to bring her over from Japan, setup the film shoot and crew just to sleep with the star: Amamiya Manami! The uniqueness of the movie is amazing and pops out from the story line, acting, raunchy humour... but everything is handled very tastefully with excellent performances from all of the leads (2 of the leads are members of HK boy band 'Shine'). The director Edmond Pang Ho Cheung is showing the potential which is well above the budget movies... his handheld camera and quick pacing make everything go down incredibly easy. As a witty, off-colour indie joke fest, AV is high-potency stuff!
AV. When you hear that, one of the first things that should come to mind is Asian porn. Well, this is what this movie is about. Sort of. The basic plot for this film comes down to 4 young adults making a porno. Where movies like Scary Movie 2 fail, this movie is successful at making people laugh with the concept of sex.
The film moves along slowly and it is not difficult to follow. While the story is simple, it is entertaining and almost realistic. If young adults were to create their own porno, it could possibly end up like this. The dialogue is hilarious at times and it is a great mixture of Chinese, Japanese, and English. That's right. All three distributed nicely. What makes the comedy really successful is that it isn't overdone or overacted. It comes in moderation. Keep in my mind that this isn't a full fledged comedy. It is part drama as well. A drama with a nice little surprise at the end.
So, you are probably asking yourself if there is a lot of nudity and sex in this film. Let's get one thing straight here. This is not a soft core porn although the main actress, Manami Amamiya, is a real life AV star. With that said, there is nothing more than a ton of boob shots from Manami herself.
The acting for this film is done nicely. It is good how the actors keep their cool and seem really serious, even at comedic parts. That just makes it funnier for the audience. AV star Manami even does a nice job with her part, which is more than just looking pretty on screen.
This may not be the funniest or the most interesting of movies, but for a movie about making a porno, it is highly entertaining.
A.V. (Qing chun meng gong chang) Quotes
There are no approved quotes yet for this movie.