Avant que j'Oublie (Before I Forget)
(2008)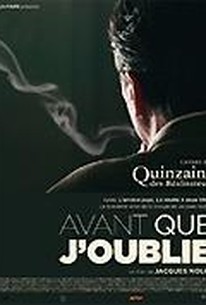 Avant que j'Oublie (Before I Forget) Videos
Avant que j'Oublie (Before I Forget) Photos
Movie Info
Imprisoned by his past and unable to cope with the loneliness that permeates every aspect of his life, an HIV-afflicted 58-year-old man seals himself up from the world in order to embark on an inward journey in director Jacques Nolot's existential drama. Pierre is desperate to move past the suffering and overcome an unshakable case of writer's block. After ingesting some psychotropic substances in hopes that it will help to clear his mind, Pierre learns that an old friend who had ostensibly stood him up for a lunch appointment has in fact died. In the following days, this desperate lost soul will be forced to contend with the law, meet with a few long-lost friends, and make one last effort to fulfill his greatest fantasies with the help of a kindly gigolo. Perhaps Pierre's primary problem is that he was born of the wrong gender.
Rating:
NR
Genre:
,
Directed By:
Written By:
In Theaters:
On DVD:
Runtime:
Studio:
News & Interviews for Avant que j'Oublie (Before I Forget)
Critic Reviews for Avant que j'Oublie (Before I Forget)
Audience Reviews for Avant que j'Oublie (Before I Forget)
"Before I Forget" is a downbeat character study in narcissism about Pierre(Jacques Nolot, who also wrote and directed), who when younger relied solely on his good looks to get him through life. Nearing 60, the last 24 years HIV Positive, he now has to pay for sex with younger men instead of the other way around. In fact, after a lifetime relying on physical and economical connections alone, he is deeply lonely and a series of psychiatrists cannot help him with his depression. Plus, he is not sure if he wants to subject himself to a new triple drug regimen.
With any luck, the English title will attract and confound some young Slipknot fans. Only then will the term "rentboy" have any chance of entering the midwestern mallcore vernacular. Unfortunately, Nolot's unflinching film will probably never gain a large audience- even in gay community. This appears to matter little to him. This is more an exercise in near-masochistic self examination and soul searching. Although it is not entirely autobiographical, it takes a great deal of courage to reveal your worn body to the world as he does. He is refreshingly self deprecating and matter of fact about his characters' reliance on expected inheritances, empty, family-less existences and desperate attempts to cling to their pasts. "Before I Forget" is essentially plotless, its strength lies in the well observed daily routines and its decision to use truly human characters instead of the trite caricatures so often found in gay-themed film. It's not a film to love, but one to keep in the back of your mind as your own twilight days begin to loom. Will you or I be able to lurch forward with the same quiet, public dignity as Nolot? Only time will tell.
Richard Stracke
Avant que j'Oublie (Before I Forget) Quotes
There are no approved quotes yet for this movie.