Avanti!
(1972)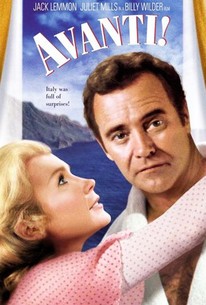 Movie Info
An uptight businessman travels to Italy where he falls in love with the daughter of his late father's mistress.
Rating:
R
Genre:
, ,
Directed By:
Written By:
In Theaters:
On DVD:
Runtime:
Studio:
United Artists
Critic Reviews for Avanti!
Audience Reviews for Avanti!
½
A dark and silly romance comedy, amusing occasionally. Avanti means to advance. What that means to the film is obscure to me. These two stars of the film are thrown together by the actions of their parents who had a secret affair for a decade. A Billy Wilder film, I had hoped for more. SEE the entire film here: http://www.youtube.com/watch?v=grqp1nTX4cE Contrary to some of member reviews shown below, there is nothing hilarious about his film. Amusing maybe, NOT hilarious! The constant Italian stereotypical humor gets old real fast. The script liked to make the Italians looked incompetent, bumbling and moronic. Jack Lemmon, American, is made to look arrogant for sure, but he is not cast as some sort of primate from the jungle. Wilder himself was disappointed with the completed film. "Maybe we went overboard with some of the comic relief, because Avanti! is not a comedy", he stated. [img]http://upload.wikimedia.org/wikipedia/en/thumb/9/9a/Avanti%21Poster.jpg/220px-Avanti%21Poster.jpg[/img] Jack Lemmon won the Golden Globe Award for Best Actor - Motion Picture Musical or Comedy, and nominations went to Billy Wilder for Best Director, Wilder and I.A.L. Diamond for Best Screenplay, Juliet Mills for Best Actress, Clive Revill for Best Supporting Actor, and the film itself for Best Motion Picture (Musical or Comedy). [img]https://encrypted-tbn1.gstatic.com/images?q=tbn:ANd9GcRKgIn7uCfKwxHO7TYi2IaiGsa34ApUrbnEfv2SdJ_ZB9IoIZCX[/img] REVIEWS by others like us: 70% hilarious entertainment... 70% "avanti!" is a very sweet and slightly dark romantic comedy. it's more of a serious comedy than the average wilder comedy like "some like it hot" or "... [img]https://encrypted-tbn0.gstatic.com/images?q=tbn:ANd9GcQA8KUGS6q6IFF8q_LS_KncBtCxEU6zOjUcK4pkaA90MdrXC3uY[/img] NOTES: 1 Wilder apologized to all involved with the film for it not becoming the comedy he had hoped for: "If this film had worked the way we wanted it to, it would have had more of the quality of The Apartment. I always feel sorry for the disappointment of the actors, and all those dear technical people who do so much, when the picture doesn't make it the way they hoped . . . 2 "Audiences thought it was too long and too bland." B. Wilder 3 A.H. Weiler of the New York Times thought the film was "intermittently funny, charming, cute and, unfortunately, over-long." 4 Roger Ebert of the Chicago Sun-Times called the film "a pleasant, civilized comedy" and added, "Avanti! isn't a laugh-a-minute kind of a movie, and it's too long by maybe half an hour." [img]https://encrypted-tbn2.gstatic.com/images?q=tbn:ANd9GcQbcwkL7C_4lV6bS6EKhMdVTXQJbC9VVXNtUPIGrRj26kHHy1PyBA[/img] A nude scene on the shore Cast Jack Lemmon as Wendell Armbruster, Jr. Juliet Mills as Pamela Piggott Clive Revill as Carlo Carlucci Edward Andrews as J.J. Blodgett Gianfranco Barra as Bruno Giselda Castrini as Anna Pippo Franco as Mattarazzo Janet Agren as Nurse Giacomo Rizzo as Barman Ty Hardin as Helicopter Pilot Antonino Faà di Bruno as Concierge Raffaele Mottola as Passport Officer Harry Ray as Dr. Fleischmann [img]https://encrypted-tbn0.gstatic.com/images?q=tbn:ANd9GcTf_2_v2GCXMT9y9opod7ursua_AdPeyjq1P4Cn1qI4fMWoshO98g[/img] You got the idea early it might come to this Directed by Billy Wilder Produced by Billy Wilder Screenplay by Billy Wilder I.A.L. Diamond Story by Samuel A. Taylor Music by Carlo Rustichelli Cinematography Luigi Kuveiller Editing by Ralph E. Winters Distributed by United Artists Release dates December 17, 1972 Running time 140 minutes [img]http://www.otraparte.org/actividades/cine/img-cine/avanti-1.jpg[/img]
monsieur rick
Avanti! is the first Jack Lemmon film that I was slightly irritated by, it's incredibly drawn out and could have been condensed to a much more watchable length. The actual plot of the dark comedy is quite a funny situation, but isn't as good as other Lemmon films.
Lady D'arbanville
Super Reviewer
Another funny comedy with Jack Lemmon falling in love in Italy. Again he is directed by Wilder, and the result is a good comedy. If you're a fan of either of them, check out this movie.
Avanti! Quotes
There are no approved quotes yet for this movie.
Discussion Forum
Discuss Avanti! on our Movie forum!