Avatar
(2009)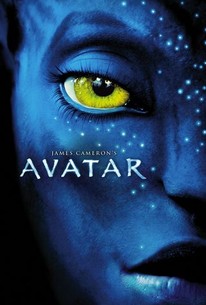 TOMATOMETER
AUDIENCE SCORE
Critic Consensus: It might be more impressive on a technical level than as a piece of storytelling, but Avatar reaffirms James Cameron's singular gift for imaginative, absorbing filmmaking.
Movie Info
"Avatar" is the story of an ex-Marine who finds himself thrust into hostilities on an alien planet filled with exotic life forms. As an Avatar, a human mind in an alien body, he finds himself torn between two worlds, in a desperate fight for his own survival and that of the indigenous people.
News & Interviews for Avatar
Critic Reviews for Avatar
Audience Reviews for Avatar
½
i liked the mix of actors and CGI. The story is nothing original - evil human miners killing local peace-loving population to harvest some ore - and the lowly indigenous inhabitants fighting for their planet.
½
The technical aspects are really impressive, quite exceptional indeed, and the plot may not be too original or clever but is mostly engaging and thought-provoking, with many welcome details about the fascinating world of Pandora and its humanoid race Na'vi.
Carlos Magalhães
Super Reviewer
many of the things that i loved about this film are the exact things that caused my discontent. to begin with, much of the visuals were obviously astounding. the design of the planet, as well as the design of the plant and animal life and the vehicles used by the humans were incredibly impressive. cameron also used color very well. on the other hand, the computer generated characters were far too cartoonish, and the real life characters and computer generated ones didnt blend together quite as well as i had hoped for considering how advanced this film was supposed to be. i would have much rather preferred costumes and make up than the cartoonish look the film had. while the planet looked impressive, david lean made more visually stunning films using actual landscapes rather than artificial ones. the story also had its up and down points. on the one hand the story was engaging enough that even after 160 minutes i could have kept watching if the film were longer. on the other hand, the dialogue was very weak, most elements of the story were completely recycled and unoriginal, and the main antagonist of the film was as cheesy of a villain as we could have received. he was basically a caricature of the villains of the corn ball action flicks of the 80's. the film also relied too much on the demonization of humanity in order to serve its agenda. cameron left the entire human race completely underdeveloped, allowing no conviction to the masses of people on pandora who were far too willing to slaughter innocent natives, and he unfortunately left us completely in the dark as to what earth or contemporary humanity looked like. finally, the film uses a macguffin in the form of "unobtainian", which is a stupid name for the mineral, that is more of a plot hole than a point of interest. its more entertaining than it is interesting and is not without some pretty massive flaws.
Avatar Quotes
| | |
| --- | --- |
| Grace: | They're just pissing on us without even giving us the courtesy of calling it rain |
| Grace: | They're just pissing on us without even giving us the courtesy of calling it rain. |
| | |
| --- | --- |
| Jake Sully: | It's over Quaritch! |
| Col. Miles Quaritch: | Nothing's over while I'm breathing! |
| Jake Sully: | I kinda hoped you'd say that. |
| | |
| --- | --- |
| Col. Miles Quaritch: | Everyone on this base, every one of you, is fighting for survival, and that's a fact. There's an aboriginal horde out there massing for an attack. These orbital images tell me that the hostile numbers have gone from a few hundred to well over two thousand in one day. And more are pourin' in. In a week's time, there could be 20,000 of 'em. At that point they will overrun our perimeter. That's not gonna happen. Our only security lies in preemptive attack. We will fight terror with terror. The hostiles believe that this mountain territory is protected by their... deity. And when we destroy it, we will blast a crater in their racial memory so deep, that they won't come within 1,000 klicks of this place ever again. And that too, is a fact. |
| | |
| --- | --- |
| Jake Sully: | All I ever wanted was a single thing worth fighting for. |
Discussion Forum
Discuss Avatar on our Movie forum!