Avenged
(2015)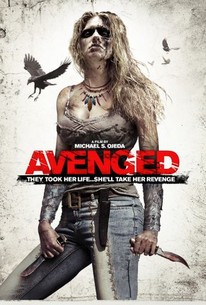 Movie Info
A lethal injection of scares, thrills, romance, and the supernatural, director Michael S. Ojeda's confronting revenge film "delivers on all levels" (Bloody Disgusting) and "deserves to be viewed, discussed, and then viewed again" (The Horror Honeys).After a gang brutalises a deaf girl (Amanda Adrienne), her lifeless body is inhabited by the spirit of a revenge-seeking Apache warrior. (C) Uncork'd Entertainment
Critic Reviews for Avenged
Audience Reviews for Avenged
I don't think I've ever seen, and I may be wrong, but a film that combines femsploitation with some supernatural elements involving an Apache warrior out for vengeance on the family of the people that murdered him, which also happens to be the people that end up murdering Zoe. And it's, honestly, a really cool idea and the execution definitely works. That's the thing, the idea is nothing if the execution isn't there and it works as two revenge thrillers at one time. And the allegory here about the damage that men, in this case white men, have done to people with a rich heritage, the native Indians (I find calling them native Americans horribly offensive, because we're calling them by the nationality of the people that exterminated them in the first place) and violence against women. So it works as an allegory and a revenge thriller all at the same time. They also touch on Zoe and Dane's romance, but that's a little corny in comparison to everything else that's going on here. But it also highlights a change from what the villains in this film have been raised to think is the norm. So it's a more thoughtful revenge film than what one would normally expect from a low-budget horror movie. And, of course, the film is quite satisfying at making you hate these detestable assholes before finally meeting their grisly ends, it almost goes without saying. Though, of course, I'm sure there's some fringe group out there that were outraged at all these white people being murdered, not even looking at the fact that they're horrible human beings, but those people don't really matter, because they're idiots. The film was well-paced, I thought. They don't blow their wad early by cramming too much stuff in there, they let it all play out the way it should. I think that that might bother some people, in that they feel that there's not really much going on in between the murders. And I would say that that's a valid complaint, even I thought that at some points. It's clear that the film wouldn't have been as long if it was straight to the point, all killer no filler, but I don't think that the film would've been as effective if they didn't let its concepts and ideas sink in first before moving on. So while it is a valid complaint, I think it's one that would've ultimately hurt the movie from a 'storytelling' standpoint. I digress, this is a good movie. There's plenty of gore at the climax to satisfy horror fans and there's enough of a thoughtfulness to its characters and presentation that even casual horror fans can enjoy this. I wouldn't say it's perfect, but it's a satisfying and smart revenge thriller. It's Amazon Video Prime, so I'd definitely recommend it if you're a subscriber.
Jesse Ortega
Super Reviewer
Avenged Quotes
There are no approved quotes yet for this movie.
Discussion Forum
Discuss Avenged on our Movie forum!