Avenging Eagle
(1981)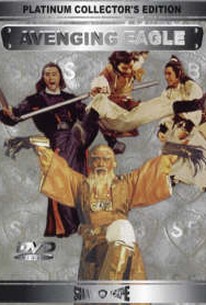 AUDIENCE SCORE
Critic Consensus: No consensus yet.
Movie Info
Sun Chung directs the 1978 martial arts action film Avenging Eagle, a kung fu film from the Shaw Brothers. Ku Feng plays the king eagle, a man who raises orphans to be his own personal goons in an outlaw band called the 13 Eagles. Ti Lung plays the rebel orphan who strikes out on his own, leading the rest of the group to want him dead. Ti Lung joins up with a mysterious warrior (Alexander Fu Sheng) and proceeds to take down the outlaw leader. ~ Andrea LeVasseur, Rovi
Rating:
R
Genre:
,
Directed By:
Written By:
On DVD:
Runtime:
Critic Reviews for Avenging Eagle
There are no critic reviews yet for Avenging Eagle. Keep checking Rotten Tomatoes for updates!
Audience Reviews for Avenging Eagle
½
In most kung fu movies, the story takes a back seat to the action. For the most part, that plays true here; however, the story is better than average and gives a plausible reason for all the battles. Can't really speak for the acting, as this is dubbed (badly, of course - just as you'd expect from a kung fu movie.from this era). I enjoyed watching this.
Don Schick
You return good with evil. Two men traveling across the Chinese countryside cross paths. One man has lost everything and is looking to die at the hands of the man responsible, and one is hell bent on a mission to obtain revenge on a gang leader that wronged him when he was a member of the gang leader's gang. The two men become friends, of sorts, and head towards the gang leader to hopefully achieve both of their goals. "There's going to be blood spilled." "Blood spilled? Whose blood?" Chung Sun, director of City War, The Master Strikes Back, Human Lanterns, Notorious Eight, To Kill a Mastermind, and The Kung Fu Instructor, delivers The Avenging Eagle. The storyline for this picture is very entertaining and fun to watch unfold. The action scenes are wonderful and the acting is as you'd expect for the genre. "I've looked around...this looks like a good place to bury your bodies." This was recently added to the Netflix queue and I had to add it to my wish list. I am a huge 5 Deadly Venoms fan and this seemed like a movie that would feel like one of theirs...it very much did. This is a must see for fans of the old school martial arts genre. "If I die it will be worthwhile." Grade: B
Kevin Robbins
The story of two individuals that meet in the middle of nowhere and decide to defeat villians. They come in conflict with a group of villians known as The Eagles, an organization lead by the head eagle and his group of adoptees that he has brought up as thieves. I really don't know what to say about this production except that it is bad, bad bad. The choreography, the script and the scenography is just terrible. Not to mention the dubbing to english which doesn't help one bit. What is really sad, is that the story has more depth than most in this genre, and it is treated terribly and made into more of a rip off. Otherwise, I don't know what the director was thinking. Several times there are frozen screen shots from different angles which not only are unecessary, but they don't add anything in the form of visals or storytelling whatsoever. Now I can understand the cultural and symbolic value that a movie like this can have, but this just stunk and is more humorous than anything else. Sad because I am sure that it was not meant to be treated like that. Even when it was fresh.
Mark Bonner
Discussion Forum
Discuss Avenging Eagle on our Movie forum!