Avenging Force
(1986)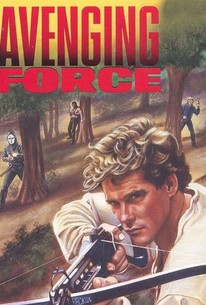 AUDIENCE SCORE
Critic Consensus: No consensus yet.
Movie Info
Produced in the Autumn of the Golan-Globus collaboration, Avenging Force serves as a vehicle for American Ninja costar Michael Dudikoff. Cast as a retired secret service agent, Dudikoff runs up against a sinister right-wing political organization called the Pentangle. He comes to the aid of his best friend Steve James, a black political candidate who has become a target for the Pentangle's henchmen. Impressed by Dudikoff's martial arts skills, the Pentangle leaders try to convince him to join their cause-and to ensure his cooperation, they kidnap his little sister Alison Gereighty. Avenging Force concludes with a violent Enter the Dragon-style mano y mano squareoff between Dudikoff and the Pentangle flunkeys. The film's finale is "open" enough to allow for a sequel, which has yet to appear. ~ Hal Erickson, Rovi
Rating:
R (adult situations/language, violence)
Genre:
, ,
Directed By:
Written By:
In Theaters:
On DVD:
Runtime:
Studio:
Media Home Entertainment
Critic Reviews for Avenging Force
There are no critic reviews yet for Avenging Force. Keep checking Rotten Tomatoes for updates!
Audience Reviews for Avenging Force
½
This is a classic 80s action flick, no doubt about it! Michael Dudikoff strikes again! I didn't get to see this one until the early 1990s. The best part about this movie is the "Game of Death" style ending. Plot: Matt Hunter (Michael Dudikoff) is a former army intel op hired as a bodyguard for his friend, now running for political office, Steve James (Larry Richards). James starts receiving threats from a right-wing group called the Pentangle. They're comprised of ex-special forces soldiers and funded by a shady millionaire, Glasteby (John Ryan). They enjoy playing a game of "Surviving the Game" with their enemies in the Lousiana bayou. No matter how hard the group tries to intimidate James, he refuses to quit his campaign. The Pentangle decides to kill James and kidnap Hunter's sister. This causes all hell to break loose! Hunter goes crazy and decides to take on the Pentangle alone on their home turf (the bayou). Hunter takes everyone down one-by-one in a game of "seek and kill." I thought the Pentangle's costumes and masks were an original touch. This movie is another forgotten 80s action flick that is worth seeing, especially if you're an action buff like myself.
J C
Michael Dudikoff and Steve James reunite for the second time in this 1986 semi-sequel to Chuck Norris' 'Invasion U.S.A.' This time, Dudikoff takes over the Matt Hunter role, as he must protect his friends and his family from a group of right wing fringe Survivaists/White supremacists. This is one of Dudikoff's best roles, it's also perhaps the darkest action movie he's starred in next to 'Midnight Ride.' There are several scenes that will drop your jaw for the pure brutality and everything is played to the grittiest effects, with little humor. The main bad guy is awesome in this, he spends the majority of his time waxing poetically about Hilter while dressed like Hue Hefner in his bathrobe, petting a kitty. I half-expected bubbles to come out of his pipe. Avenging Force is helmed by Sam Firstenberg, and he brings the same mixture of humor and over-the-top action to the table here as he did to 'American Ninja.' It's nowhere near as over-the-top as 'invasion U.S.A.', but it's still filled with its moments of hilarity- people get shot and bodies go flying in weird contortions right out a Hong Kong flick, the baddies are dressed like they're going to the leather bar or celebrating Mardis Gras (it does take place in Louisiana). Steve James I think was underused here. He's still cool as ever, and Dudikoff's bud, but he doesn't really get to show off as in the American Ninja movies. One great scene is where he's shot by machine guns and gets an arrow in the back and just walks away like nothing ever happened. I think Dudikoff has never been more convincing as a bonafide tough guy than here. He plays this mostly straight, and you can buy into it- whereas something like 'Moving Target' or 'Cyber Jack' would see him as an everyman goofball. He's still Dudikoff, and he still rules. And why there was no sequel to this, we'll never know. It practically sets one up to be made. I felt like I was watching a cliffhanger ending to a two part movie, but the second never came out. Highly recommended.
Jason Anderson
½
Better than expected action film, mostly due to the quality of the villains.
Anthony Valletta
Super Reviewer
Avenging Force Quotes
There are no approved quotes yet for this movie.
Discussion Forum
Discuss Avenging Force on our Movie forum!