Axe
(1977)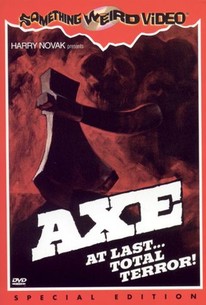 AUDIENCE SCORE
Critic Consensus: No consensus yet.
Movie Info
Released originally under the title Lisa, Lisa, this seedy murder-fest was later re-titled during drive-in circulation then again for its video release in 1985 as The California Axe Massacre to capitalize on the hype of another new arrival to video, Tobe Hooper's cult classic The Texas Chainsaw Massacre. The film itself (actually filmed in North Carolina, not California) has little in common with Hooper's hit; the bloody revenge scenario is more reminiscent of Wes Craven's Last House on the Left. It involves a gang of grimy fugitives who hole up in the rural abode of a pretty but unstable young woman (Leslie Lee) and proceed to abuse her and her grandfather. Of course, things get out of hand from there, and the hoods kill the old fogey, which brings gory retribution as the sweet young thing brandishes the title implement. Painfully cheap-looking, this tawdry exploiter is too slow-moving to sustain the interest of chop-em-up fans who might be lured by the title.
Critic Reviews for Axe
There are no critic reviews yet for Axe. Keep checking Rotten Tomatoes for updates!
Audience Reviews for Axe
½
One of those films you watch then forget about it. The plot follows the typical revenge film formula, particularly for Last House On The Left. The whole film is pretty boring, lots of gore, fake gore. I don't know why it was a video nasty but this film surely wasn't nasty at all, well, except the dirty jokes.
Sylvester Kuo
Super Reviewer
I think this is borderline brilliant. Well maybe not, but it's a hell of a great exploitationy b-movie. And at an hour and change you won't need to spend much time on it, but it will be time well spent.
Patrick Dolan
Super Reviewer
HORRID SHIT! I hate this movie so much, the only reason I even gave it 2 stars was because I liked some the atmosphere and the house Lisa lived in was kind creepy. The movie runs about 70 mins,but it felt more like 120.The movie was so slow moving I almost fell asleep watching it. Even how they talked was slow and boring. i dont think they could have talked more mono tone. There was no many unecessay scenes too. Like the scene where they shoot the tomatoes off the girl in the store!! What the fuck was the point of that scene?? It wasnt even funny,just utterly pointless... When they finnaly do get to the "good" scenes(they actually werent that good,average at best!) it was at the 40 min mark!40 minutes! Are you kidding me,when the movie is only 70 minutes long. This just shows you off idiotic the film makers where. This was such a forgettable film...
Axe Quotes
There are no approved quotes yet for this movie.