Baabul
(2006)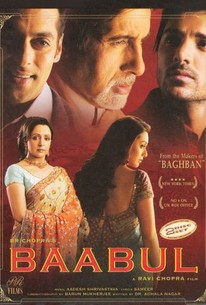 AUDIENCE SCORE
Critic Consensus: No consensus yet.
Movie Info
A woman is uncertain of what path to take when she loses the love of her life in this romantic drama from India. Avi (Salman Khan) is a bright and ambitious young man who, after completing his education in the United States, comes home to take his place in the successful business run by his father, Balraaj Kapoor (Amitabh Bachchan). Avi meets a beautiful young artist named Millie (Rani Mukherjee) and the two fall in love. They wed, give birth to a son, and are enjoying their lives with their new family when Avi is suddenly killed in an auto accident. Millie is emotionally shattered by Avi's death and she is uncertain about what to do next. Balraaj believes his daughter-in-law needs to remarry and start life over again; he knows that Millie's friend Rajat (John Abraham), a musician, has long had feelings for her, and he tries to bring the two of two of them together. But Millie must decide if she's ready for a new love while her life with Avi is still fresh in her mind.
Critic Reviews for Baabul
There are no critic reviews yet for Baabul. Keep checking Rotten Tomatoes for updates!
Audience Reviews for Baabul
½
This is a phenomenal movie! Amitabh gives a stunning performance! John and Salman are outstanding as well! In this movie, it is Amitabh's character, Balraaj, that shines throughout the movie. This movie is indeed a tearjerker and heartwrenching, but it also reminds one of the value and significance of friendship and family, especially that of the relationship between parent and child. Throughout the film, I couldn't help but wipe stray tears for the fact that it is simply amazing to see such love, affection, and caring that one single person, a father nonetheless, could feel for his loved ones. The hardships that a family has to go through after losing a loved one, but none less likely than that of a father losing his son/best friend (as Balraaj loses his son, his buddy, Avi). A scenic example: Balraaj witnesses the pain that his daughter is feeling after the loss of his son. He appears at the balcony and begins looking up at the stars, and begins talking to his son (but really talking to himself in comfort). Two great musical compositions give effect to the emotional states that each character are in: One would be Rajat performing at a concert that Millie and Balraaj attend. ("Bebasi Dard Ka..."). The other is simply used throughout the film, but the best portion is at the end/credits ("Kehta Hai..").
Baabul Quotes
There are no approved quotes yet for this movie.