Babette's Feast (Babettes Gæstebud)
(1987)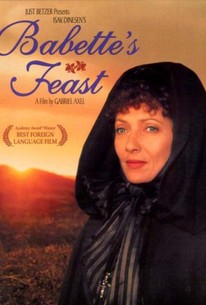 Babette's Feast (Babettes Gæstebud) Photos
Movie Info
The Danish/French Babette's Feast is based on a story by Isak Dinesen, also the source of the very different Out of Africa (1985). Stephane Audran plays Babette, a 19th century Parisian political refugee who seeks shelter in a rough Danish coastal town. Philippa (Bodil Kjer) and Martina (Birgitte Federspiel), the elderly daughters of the town's long-dead minister, take Babette in. As revealed in flashback, Philippa and Martina were once beautiful young women (played by Hanne Stensgaard and Vibeke Hastrup), who'd forsaken their chances at romance and fame, taking hollow refuge in religion. Babette holds a secret that may very well allow the older ladies to have a second chance at life. This is one of the great movies about food, but there are way too many surprises in Babette's Feast to allow us to reveal anything else at this point (except that Ingmar Bergman "regulars" Bibi Andersson and Jarl Kulle have significant cameo roles).. ~ Hal Erickson, Rovi
News & Interviews for Babette's Feast (Babettes Gæstebud)
Critic Reviews for Babette's Feast (Babettes Gæstebud)
Audience Reviews for Babette's Feast (Babettes Gæstebud)
This sublime ode to art, gift, love and grace should be remembered for its wonderful direction and a magnificent narrative that never ceases to surprise us with what it has to offer and the unbelievable amount of depth that it holds in every detail of its apparently simple story.
Carlos Magalhães
Super Reviewer
This film really moved me when I first saw it many years ago. I just rewatched it and I think that I enjoyed it even more this time around. On the surface it is a very simple film, but the currents that run below the surface are very deep and complex. The film is beautiful, sad, depressing, inspiring and heartwarming all at once. It is made all the more powerful by the wonderfull acting and beautifull cinematography. A true classic in every sense of the word.
½
Set in a rugged fishing village in 1871 Denmark, shows the impact of a French housekeeper (Stephane Audran) on two pious sisters who carry on their late father's work as pastor of a dwindling religious flock. Danish director Gabriel Axel's understated but finely detailed work centers on the preparation and consumption of an exquisite Gallic meal, a sensuous labor of love which has a healing effect on the austere sect and the Frenchwoman who prepared it. This film has so much power and warmth.
Jeremy Smith
Super Reviewer
Babette's Feast (Babettes Gæstebud) Quotes
| | |
| --- | --- |
| Babette Hersant: | "An artist is never poor" |
| Babette Hersant: | An artist is never poor. |
| | |
| --- | --- |
| Lorenz Lowenhielm as an old man: | Mercy and truth have met together. Righteousness and bliss shall kiss one another. Man in his weakness and short-sightedness believes he must make choices in this life. He trembles at the risks he takes. We do know fear. But no, our choice is of no importance. There comes a time when your eyes are opened and we come to realize that mercy is infinite. We need only await it with confidence and receive it with gratitude. Mercy imposes no conditions. And lo! Everything we have chosen has been granted to us and everything we have rejected has also been granted. Yes, we get back even what we have rejected. For mercy and truth have met together and righteousness and bliss shall kiss one another. |
| Lorenz Lowenhielm as an old man: | Mercy and truth have met together. Righteousness and bliss shall kiss one another. Man in his weakness and short-sightedness believes he must make choices in this life. He trembles at the risks he takes. We do know fear. But no, our choice is of no importance. There comes a time when your eyes are opened and we come to realize that mercy is infinite. We need only await it with confidence and receive it with gratitude. Mercy imposes no conditions. And lo! Everything we have chosen has been granted to us and everything we have rejected has also been granted. Yes, we get back even what we have rejected. For mercy and truth have met together and righteousness and bliss shall kiss one another. |