Baburu e go!! Taimu mashin wa doramu-shiki (Bubble Fiction: Boom or Bust )
(2007)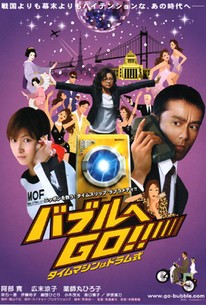 AUDIENCE SCORE
Critic Consensus: No consensus yet.
Baburu e go!! Taimu mashin wa doramu-shiki (Bubble Fiction: Boom or Bust ) Photos
Movie Info
Director Yasuo Baba and screenwriter Ryoichi Kimizuka team to tell the satirical tale of a young bar hostess sent back in time to the year 1990 on a mission to save her mother and reverse a disastrous financial policy that threatens to plunge the Japanese economy into debt. Adapted from the popular manga of the same name, Bubble Fiction: Boom or Bust opens as bar hostess Mayumi Showa (Ryoko Hirosue) is abandoned by her boyfriend shortly after the death of her mother and plunged into bottomless debt. Later followed to her apartment by Finance Ministry salary-man Shimokawaji (Hiroshi Abe), Mayumi is informed by Shimokawaji that her mother is not dead, but trapped in a different decade on a government-sponsored mission. It seems that the powers that be have created a working time machine out of a common washing machine, and that Mayumi's mother Mariko was sent to ensure that 1990-era Finance Minister Serizawa (Kazue Fukiishi) never establishes the policy that will ultimately cripple the Japanese economy. Should Mayumi succeed in her mission, all of her personal debts will be forgiven. ~ Jason Buchanan, Rovi
Critic Reviews for Baburu e go!! Taimu mashin wa doramu-shiki (Bubble Fiction: Boom or Bust )
All Critics (1) | Fresh (0) | Rotten (1)
There is little subtlety in the madcap time-travel comedy, but Baba's film affords a view of the massive recessionary changes undergone by Japan in a mere two decades, while dreaming of a future return to the nation's former affluence.
February 25, 2013
Audience Reviews for Baburu e go!! Taimu mashin wa doramu-shiki (Bubble Fiction: Boom or Bust )
½
Japanese sci-fi comedy as Mayumi goes back in time (via a bright yellow washing machine) to rescue her mother Mariko, who's trying to prevent present-day money meltdown by stopping a politican in the 90's from bursting the economic bubble Cue jokes about mobiles, dance fashions, body-con fashions and spend-spend-spend and it all adds up to a silly and very entertaining film, even if you don't get all the Japanese jokes and cameos.
.
½
Time travel. Always a great concept for a movie, in my opinion. This film actually pulls it off nicely and, in my book, will rank up there with the Back to the Future series. There are many similarities between these two as well, which is probably why I enjoyed them all. Actually, this film makes a quick reference to the delorean time travel machine.
The story surrounds politics, but this idea is only used as the setup for the time travel concept. The rest of the film is pretty entertaining dealing with character interaction and when time travel is involved it is always fun to see past and present characters interact. It is great how some of the characters have similar occurrences in both their past and present lives.
This film actually uses the time travel concept nicely. Although it is only a 17 year jump, going from 2007 to 1990, it is still able to focus on the little differences between the two times. People talking on huge mobile phones, the types of clothing, the music, etc. Where else are you going to see a party with people dancing to MC Hammer and C&C Music Factory? The film even takes notice on the consequences of changing history.
The acting is nicely done and similarly to Back to the Future you have many actors playing two characters. Their past and present selves. Ryoko Hirosue, of Wasabi fame, steals the show as the main character Mayumi.
There is also a good amount of humor (i.e. washing machine used for time travel) and some decent, yet minimal, CG involved and they are both used in the right amounts. This helps to liven up the film, but at the same time it keeps the film on a serious tone.
Some people may find this film stupid, while others will find this entertaining. Use your own judgment and give it a wash, I mean watch.
Baburu e go!! Taimu mashin wa doramu-shiki (Bubble Fiction: Boom or Bust ) Quotes
There are no approved quotes yet for this movie.