Baby Face
(1933)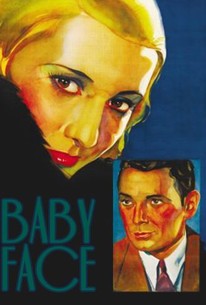 Movie Info
When her father dies, this "bound-for-bigger-things" blonde heads to NYC going to work in a bank, where she uses beauty and charms to quickly move up the ladder. She soon has the corporate press eating out of her hand, as well as the rest of the male-only executive world.
Critic Reviews for Baby Face
Audience Reviews for Baby Face
½
Pre-Code Hollywood gems are the best kept secret in film history. Before films were heavily censored there were black and white talkies featuring nudity, sexual innuendo, swearing, and other obscenities. "Baby Face" is the film that pushed Will Hays into finally enacting the Hays Code. The film features gratuitous innuendo, a character that constantly sleeps with men to advance her standing in life, and obscene language. Stanwyck titillates in the role of Lily, a trodden upon young woman who uses the knowledge of a Nietzsche spouting philosopher, who tells her to use men before they can use her. Stanwyck is exceptional, as always, in a role she was born to play. Supporting characters include George Brent as Courtland, the supposedly dashing suitor who shakes up Lily's life, Theresa Harris as Chico, a black friend who often poses as her servant, and a young John Wayne as Jimmy McCoy Jr. This has been added to the National Film Registry, and stands as an exceptional example of the films made before censorship was common. If the ending hadn't been changed for the benefit of the censors, this would have been a better film, but for its time this is amazing and entertaining.
Spencer S.
Super Reviewer
I really liked this movie, but it does remind you a lot of Red-Headed Woman story wise. I really liked Stanwyck in this movie. Also I loved the ending.
½
"baby face" was an mighty milestone to set up the stanwyckesque femme fatale image before the fatally classic "double indemnity"...generally..the vital charm of most femme fatales is their gluttonish sensuality and sex apeal...but the allure of stanwyck's femme fatale is based upon her ruthless toughnes and also her un-willing-ness to comprise..sorta refreshing...it's just like a man who takes what he wants without hesitation...basically BF is an heavily melodrama-driven story even it's worthy being praised for its audacious outrage in a conservative decade. to apply nietzscheistic superman into the "bad girl survives and rules" pattern is indeed feministically offbeat that could be considered a defying moral dynamite at that time. babyface's hostility against man is motivated by her experience of being exploited by men, especially her father. her remarks about her father philandering her was incredically explicit in the concern of the censor in the 30's. the quick wit and dare-devil adventurousness of stanwyck's material girl sorta savor the audience's appreciation over babyface's resourcefulness. but the devilsih brazen fun of the movie is somehow hindered by the moralistic closure. (bad girl is suddenly stricken with the meaning of love.) if interpretating it from a different perspect, perhaps it could be a touching story of an astray female discovering the warmth of bona-fide human affection. only stanwyck's swiftly polished acting talent could carry it off without diverged distortion.
Veronique Kwak
Super Reviewer
Baby Face Quotes
There are no approved quotes yet for this movie.