Baby Mama
(2008)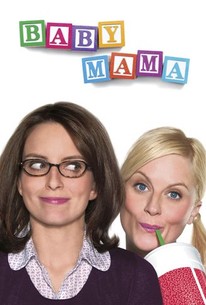 Movie Info
Successful and single businesswoman Kate Holbrook has long put her career ahead of a personal life. Now 37, she's finally determined to have a kid on her own. But her plan is thrown a curve ball after she discovers she has only a million-to-one chance of getting pregnant. Undaunted, the driven Kate allows South Philly working girl Angie Ostrowiski to become her unlikely surrogate. Simple enough? After learning from the steely head of their surrogacy center that Angie is pregnant, Kate goes into precision nesting mode: reading childcare books, baby-proofing the apartment and researching top pre-schools. But the executive's well-organized strategy is turned upside down when her "baby mama" shows up at her doorstep with no place to live. An unstoppable force meets an immovable object as structured Kate tries to turn vibrant Angie into the perfect expectant mom. In a comic battle of wills, they will struggle their way through preparation for the baby's arrival. And, in the middle of this tug-of-war, they'll discover two kinds of family: the one you're born to and the one you make.
People Who Like this movie also like
News & Interviews for Baby Mama
Critic Reviews for Baby Mama
Audience Reviews for Baby Mama
½
Comedy about a woman in her late 30s considering all possibilities to become a mother and ending up with a rather unusual surrogate mum. The chemistry between Fey and Poehler is one of the film's strongest points. Fey also brings some of her "30Rock" humor into this, although not nearly enough to make it an outrageously funny film. That doesn't mean there isn't plenty to smirk about and a few really great laughs. While the ending may not be entirely unpredictable, it's still fun to see the two lead actresses (and quite a few stars in minor roles) make their way there. Entertaining and sweet, but could have used a little more of the callous humor of its best scenes.
It was okay, funny but nothing great, so I give it 3 stars.
Jim Careter
Super Reviewer
½
Kate: My avatar's dressed like a whore! Two hilarious female actors put into a surrogate film? How could this not be funny? That is what I said going into the movie. This movie was just rushed and the jokes fall flat most of the time. You would expect a Fey-Pohler movie to be great, but it isn't. They are hilarious, this movie isn't.
Matt Goodman
Super Reviewer
Baby Mama Quotes
| | |
| --- | --- |
| Angie Ostrowiski: | There is a thing called being too healthy. That's what killed Bruce Lee. |
| Kate Holbrook: | Really? Where'd you read that? The Weekly World Dum-Dum? |
| | |
| --- | --- |
| Kate Holbrook: | Did you just stick your gum under my coffee table? |
| Angie Ostrowiski: | I don't know... |
| Kate Holbrook: | What do you mean you don't know?! Do you think you're at an Arby's right now? |
| Angie Ostrowiski: | You know what, I wish I was at an Arby's! 'Cause there's better food and cooler people there! |
| Kate Holbrook: | *looks under coffee table and gasps* Did you stick all this gum under here?! |
| Angie Ostrowiski: | I don't know! Maybe you stuck some of it under there! |
| Kate Holbrook: | Yeah, actually you might be right. Because sometimes when I work a really long day, I like to come home and chew a huge wad of bubblicious gum and stick it under my reclaimed barn-wood coffee table! |
| Angie Ostrowiski: | B*tch, I don't know your life! |
Discussion Forum
Discuss Baby Mama on our Movie forum!