Babylon 5: In the Beginning
(1998)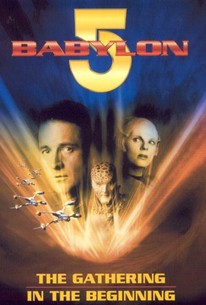 AUDIENCE SCORE
Critic Consensus: No consensus yet.
Babylon 5: In the Beginning Photos
Movie Info
The long-awaited "backstory" for the popular syndicated science-fiction saga Babylon 5 was provided some five years after the series premiered, courtesy of the two-hour movie special Babylon Five: In the Beginning. Set in the year 2278, the film takes a backward glance at the Earth-Minbari war, as seen through the eyes of Londo Mollari (Peter Jurasik), now the emperor of Centauri. Detailed for the first time are the tragic beginnings of the war, the involvement of the Minbari Delenn (Mira Furlan), and the death of Dukaht (Raynor Scheine). In addition to featuring most of the series' current regulars, the film also brings back such early defectors as Lt. Cmdr. Jeffrey Sinclair (Michael O'Hare) and Ambassador Kosh (Ardwright Chamberlain). As a bonus, Claudia Christian appears unbilled in her familiar role of Lt. Cmdr. Susan Ivanova, here depicted as an 18-year-old civilian. The film was written by series producer J. Michael Straczynski, and later novelized by Peter David. First telecast on January 4, 1978, Babylon 5: In the Beginning launched the two-year association between Babylon 5 and the TNT cable network.
Critic Reviews for Babylon 5: In the Beginning
There are no critic reviews yet for Babylon 5: In the Beginning. Keep checking Rotten Tomatoes for updates!
Audience Reviews for Babylon 5: In the Beginning
Not a fan of sic fi at all, but this show was pretty decent. The characters are what kept this show from becoming dull.
Bailey H
½
for sci-fi well done ..not a big Boxleitner fan ..but i believe this was some of his best work..worth the watch if your a sci-fi fan
joe b
½
[img]http://ec1.images-amazon.com/images/P/0790736683.01._SCLZZZZZZZ_.jpg[/img] This is the pilot film for the TV series [b]Babylon 5[/b]. Now I know why I didn't bother with this program when it originally aired...it wasn't all that good and there were just too many better options on at the time. But I was always interested in the show visuals, since they were done on desktop computers (Commodore Amigas, to be exact); which may be a TV first. Well, the effects haven't aged well at all. Very cheesy production, uninteresting story. But it isn't that bad (Film = 6/10). The least rewarding thing about this experience is that I watched it on the net using AOL's TV media viewer. The film played like an old timey movie: extremely jerky. Which is strange since I downloaded the thing to my PC and used AOL's software player (I think based on Windows Media Player 10) to watch it. It should've been a smooth ride, but it wasn't. I've watched various other shows this way (like [i]Alice [/i]and [i]The Adventures of Brisco County Jr[/i]) and they mostly played okay. I don't know what the problem was here. I guess they'll get the kinks work out; until then it's a hit & miss deal. At least it's free...give it a try.
James Perry
Babylon 5: In the Beginning Quotes
There are no approved quotes yet for this movie.
Discussion Forum
Discuss Babylon 5: In the Beginning on our Movie forum!